Meet the Undergraduate Research Assistants at the Queer and Trans Research Lab (QTRL)
For the Undergraduate Research Assistants at U of T's new Queer and Trans Research Lab (QTRL), being a part of the project has been an invaluable experience. While the academic knowledge has been priceless, what has been truly eye-opening is learning about racial, sexual and gender identities, art, activism and community, and the ways they can all intersect with university life.
The QTRL, part of the Bonham Centre for Sexual Diversity Studies, has enlisted the students to help bridge the gaps between academic institutions and queer and BIPOC communities, and to work with artists, activists, and scholars at the lab.
For Chelle Carter, being a student in the Sexual Diversity Studies (SDS) undergraduate program and a Research Assistant at the lab has meant finding a place that validates her ideas and her identities.
"When I found the SDS program, I felt like I had found my people," she says. "Multiply marginalized people, interdisciplinary methods, you can really bring all the different parts of yourself to your studies.
"In the lab, we have community leaders and artists and activists, then we have Ph.D. candidates and faculty fellows holding seminars and sharing their work. It solidified for me that I can find spaces where I can look at these things, at how fatness and colour and gender intersect. People at the lab get what I'm talking about."
Carter — along with Jade Nelson, Riya Joshi and Maddie Garces — is currently one of four Undergrad Research Assistants at the QTRL. They have each been paired with one of the fellows at the lab to assist in their work and learn about things like research practices, social justice collaborations, community outreach initiatives, database development and management, event planning, and creative practice.
Jade Nelson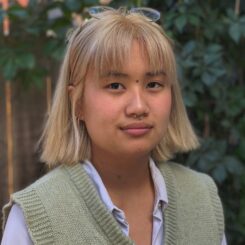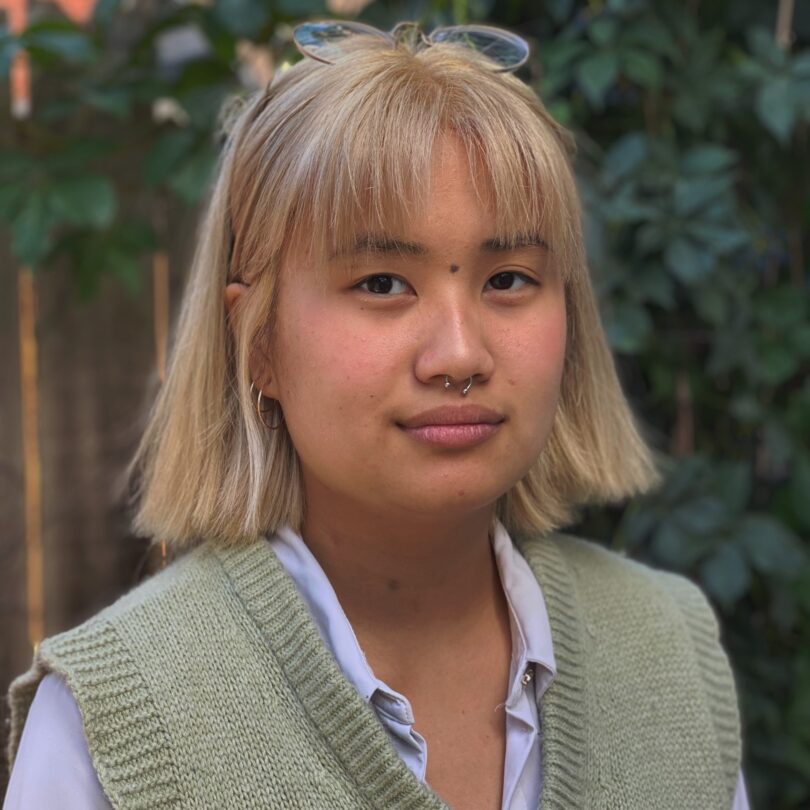 Jade Nelson always wanted to study queer theory. It's why they came to U of T.
"When I was in high school and looking at universities, the Bonham Centre was a point of interest," they say. "I wanted to focus on queerness."
Hailing from Belle River, a small town near Windsor ("One Tim Horton's and that's it"), Nelson didn't always feel safe exploring who they were.
"I find myself changing identities at home for safety," they say. "As a POC (person of colour) queer person in Belle River, it's not even safe. Toronto offers a lot more space for authentic identities. I don't always have to think about safety when performing my identities here."
That safety has allowed Nelson to further explore their true self.
"My sexual orientation, my gender identity, have all changed within the last three years," they say. "I came out in grade 12. But in second year at University, I changed my identity to queer. Lesbian and gay weren't broad enough for me, and I also began questioning my gender identity and came out as non-binary. Part of the ability to think about my own identities came from being in a safe place and being able to talk about it and investigate it in a way that made me much more comfortable."
Now a fourth-year student in History and Sexual Diversity Studies, Nelson has found working with community activist and Community Leadership Resident Tatiana Ferguson — whose focus is on Black trans women — at the QTRL hugely educational.
"I'm learning about research and ethics and ethical ways of engaging with communities," they say. "I've learned a lot about marketing, creating surveys and focus groups, and analyzing data. We do bi-monthly meetings with consultants within the community.
"It's very interesting coming at it from the community perspective. We're prioritizing positive outcomes, how to create safer spaces for trans women, what trans women really need, different ways to counteract the amount of violence trans women experience just for being trans. Every trans woman who participated in our study has experienced violence, but none have tried to access support, and that is a huge problem we are trying to address."
Nelson would like to continue in their academic career and has applied to get their Master's degree in Sexual Diversity Studies at U of T. They are particularly interested in the ways in which queer fashion can be part of social and political movements to promote queer and Indigenous culture. But they also plan to continue the fight to bring queerness into academic settings.
"In an ideal world, I would like to take what SDS is and bring it to other universities that are lacking queer spaces," they say. "I would like to help create queer spaces in research and not sideline it. We need a bigger bridge between community activism and academic activism."
Chelle Carter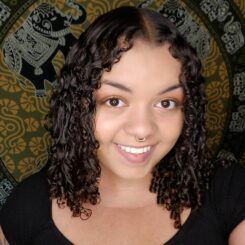 Chelle Carter grew up as part of Toronto's queer and Black communities.
"I'm biracial, but identify as Black first," she says. "My mum and dad divorced while she was pregnant. I was living in a white neighbourhood one week, a black one the next. My mum came out as lesbian early on in my life, so I found out about the gay community pretty young. She took me and my two sisters to parties."
As part of the QTRL, Carter — currently finishing her final year of a BA in Women's and Gender Studies and Sexual Diversity Studies — is learning about the Black queer communities that existed before her birth.
Working with artist Abdi Osman — another Community Leadership Resident at the QTRL, whose current work focuses on Black gay men before and during the AIDS pandemic — Carter is researching gay nightclubs and bathhouses from the '80s.
"It's lots of fun," she says. "Some were more elusive than others. But combing through city directories to find them is really rewarding. Having grown up in Toronto, and living in St. Jamestown with my partner, I'm familiar with the gay village. And lots of the clubs were in that area, on Yonge, St. Joseph, Wellesley.
"But I knew very little about the actual spots. I was surprised there were so many gay clubs at the time. There were many more spots that catered to gay folks then than there are now. It makes me reflect and wonder what it was like back then."
Carter says the QTRL is also helping break down academic constraints.
"It legitimizes and validates and expands what is considered academic work," she says. "You can take something really transformative like Ru Paul's Drag Race, like queer bookstores, like magazines, movies, or social media and transfer it to academic practice. SDS, as an academic program, never takes things for granted, it questions where foundational knowledge comes from, which is usually some sort of colonial or patriarchal regime."
The result, she says, is that she realizes she has a lot of academic options.
"I keep jumping back and forth," she says. "I do love school, theory, reading non-fiction. I love learning and coming to my own conclusions."
Carter has applied to do a Master's in Social Work. She's also considering a Master's in Information Science or Museum Studies. But she says she feels a calling toward social work.
"I've been through some pretty rough times," she says. "I feel like I could benefit people through my own experiences with social care and mental health. When the people who are supposed to be helping you have never experienced the things you have, that can lead to some extremely traumatic experiences."
Riya Joshi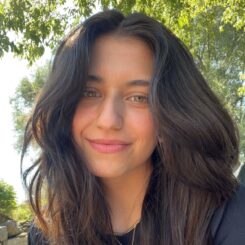 Currently finishing her BA in Sexual Diversity Studies, Riya Joshi credits the field with breaking her out of her bubble.
"At first, I had my mind set on Political Science," she says. "Then I started SDS courses randomly, in first year, and I realized it's more for me. Politics made me miserable. I can't believe I used to study politics."
SDS, she says, has allowed her to address topics that are, quite literally, closer to home. Home, in her case, being Brampton, a city with a large South Asian population.
"The essays and topics we read and explore are so much more open," she says. "For my research essay last year, my primary research was on queer first-generation South Asians. Being born to South Asian immigrants and being queer, it was such a personal issue. I know so many people who struggle with that identity."
SDS also allowed for more freedom than she had in Brampton.
"Everywhere you go, there's a family member, there's someone you know," she says. "It was never bad, just a little uncomfortable, a little awkward. Whoever I know who's queer and South Asian, nothing's changed for us.
"At first, it was just going from home to school, then school to work. I never had a chance to explore that side of myself. SDS was kind of that community for me. I felt so isolated at school, but as I transitioned more and more into SDS classes, it kind of broke me out of the bubble I was in."
And being invited to join the QTRL has allowed Joshi to feel like she's making a real contribution.
"One of my profs recommended me," she says. "I felt I didn't really stand out, so the fact my prof recommended me was fricking amazing."
Joshi is working with Nikoli Attai, the QTRL Program Coordinator.
"I'm creating guidelines for lab events, working on how our logo can be used by other organizations across U of T," says Joshi. "I'm working on creating letterhead, typography, making sure it's ready to go for the next generation, which fonts, sizes, colours. I'm creating a mood board of what our aesthetic is going to be.
"I'm working on a year-end review and a yearbook, and on the QTRL festival, which is happening in June. Last semester, I worked with Faculty Fellow Andrea Allen on a job hunt seminar series for graduate students, and I am helping Dr. Attai create an archive of all the QTRL materials."
For her future, Joshi says she's leaning towards getting a Master's in Social Work. But the lab has made her realize she has a lot more options.
"The QTRL comprises so many different people in different areas," she says. "You talk to people, you learn what it all looks like, you hear about everybody's research.
"I thought I had my future planned out. Of course, that's not the case."
Maddie Garces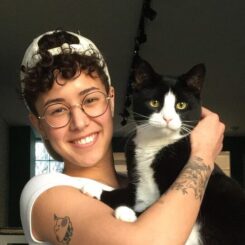 Maddie Garces felt like part of the Sexual Diversity Studies program long before attending U of T.
"I've known I was queer since I was 13," she says. "Because I was the first one of my friend group to be out, I was the person they came to with questions."
"It kind of feels like I've been part of SDS since I was younger."
Garces, who grew up in Oakville, says she's always felt accepted at university.
"Most of the friends I've made have been queer, but maybe I've been in a bit of a bubble," she says. "There's not a ton of socializing beyond the group you've made friends with. It's not like it's a big queer social party, a lot more like you make your own queer social parties."
But Garces — now completing a BA in English and SDS — really hit her stride once she actually joined SDS.
"I really fell in love with it," she says. "It really encourages discussion and creative thinking, encourages us to come up with our own ideas, and bridge what we're learning with our day-to-day lives. It felt like a really welcoming, but also thoughtful and creative, space I was really missing."
When she was invited to join the QTRL, Garces jumped at the chance to use her English background to work with Artist-in-Residence Teiya Kasahara 笠原 貞野 on their project exploring the heteronormative and gender restrictions of opera. To do so, Kasahara is developing an opera project called Little Mis(s)gender, which challenges the idea of gendered voice types that dominates the opera industry. 
"It started out with me learning more about opera in general," says Garces. "Now I'm helping to develop the narrative as a reader, allowing it to be a bit more cohesive, reminding Teiya of the values that they had wanted to include. It's a lot of world-building that Teiya didn't expect. I'm helping point out where they need to draw back.
"I really appreciate the amount of trust Teiya has placed in me. It's a huge confidence boost."
Garces is also using her skills with illustration and animation on the production, as well as her experience with queer open mic and poetry slam collective Hot Damn It's a Queer Slam.
"Through that I've learned how to consider the performance of words and story," says Garces. "[With Kasahara's work] we're talking about how written down it looks like poetry, and on the other hand, how it sounds on stage."
The collaboration with Kasahara has helped Garces expand her idea of what academia is and can be and, along with the other Undergraduate Research Assistants, is grateful to the QTRL for the experience.
"Activism is something that seemed at odds with academia for a long time," she says. "A lot of academics are studying data in textbooks. With this, it's, 'Oh yeah, there's value in art.' It's nice to explore that, to work with people who get to showcase its value in an academic setting."