Queer Directions is an annual symposium addressing the most pressing issues in queer and sexuality studies and related communities that is free to the public. It has an additional experimental classroom component available to graduate students by application.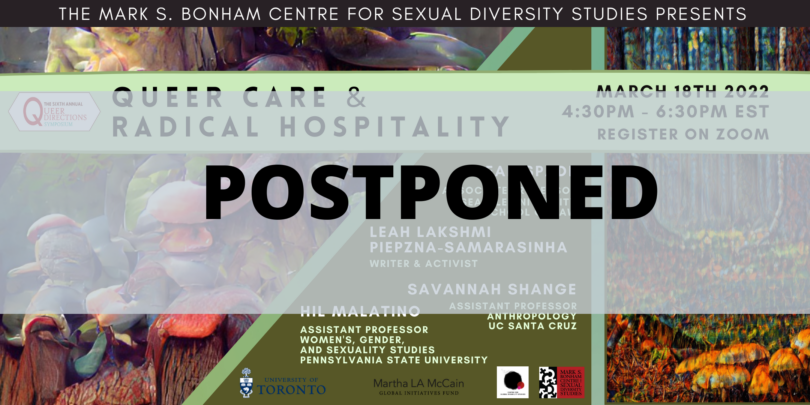 Live captions will be available and ASL is available upon request. Please contact sexual.diversity@utoronto.ca with any access requests.
Dean Spade – Associate Professor, Seattle University School of Law
Leah Lakshmi Piepzna-Samarasinha – Writer and Activist
Hil Malatino – Assistant Professor, Women's, Gender, and Sexuality Studies, Pennsylvania State University
Savannah Shange – Assistant Professor, Anthropology, UC Santa Cruz
Archive
Audra Simpson (Kahnawake Mohawk) is Professor of Anthropology at Columbia University.
Dayna Danger is a 2Spirit/Queer, Metis/Saulteaux/Polish visual artist who uses photography, sculpture, performance and video to question the lines between empowerment and objectification by claiming space with her larger than life scale work.
Joseph M. Pierce is Associate Professor in the Department of Hispanic Languages and Literature at Stony Brook University.
T.J. Tallie is Assistant Professor, History at the University of San Diego.
---
Kara Keeling – Associate Professor, Cinema and Media Studies, University of Chicago
Qwo-Li Driskill – Associate Professor, Women, Gender & Sexuality Studies, Oregon State University
Kadji Amin – Assistant Professor, Women's Gender, and Sexuality Studies, Emory University
Aimee Bahng – Assistant Professor, Gender and Women's Studies, Pomona College
---
Riley Snorton – Professor of English Language and Literature, University of Chicago
Aren Aizura – Assistant Professor, Gender, Women and Sexuality Studies, University of Minnesota
Morgan M. Page – Writer and Artist, Creator/Host of One from the Vaults Podcast and Founder of TWAT Fest (Trans Women Arts Toronto)
Alok Vaid-Menon– Artist, Writer, and Activist, Co-founder of Darkmatter Spoken Word Duo
---
Gayatri Gopinath – Associate Professor, New York University
Xavier Livermon – Assistant Professor, University of Texas
Jafari Allen – Associate Professor, University of Miami
Helen Hok-Sze Leung – Professor, Simon Fraser University
---
Dana Luciano – Associate Professor in Women's and Gender Studies Program, Georgetown University
Tavia Nyong'o – Professor in African-American, American Studies & Theatre Studies, Yale University
Mel Y. Chen – Associate Professor in Gender & Women's Studies and the Director of the Centre for the Study of Sexual Culture, University of California, Berkeley
Eunjung Kim – Assistant Professor in Women's and Gender Studies, Syracuse University