The Sex Salon is a monthly speakers series organized and hosted by graduate students from the Mark S. Bonham Centre for Sexual Diversity Studies, and meets on the last Wednesday of every month from 6:00 – 8:00 PM EST. Each month, Sex Salon invites scholars, both graduate students and faculty, to present new and in-process work and engage in discussion with guests and colleagues. Participants come from both the University of Toronto and the wider academic community across Canada and the US. Each month features two to four presentations around a central theme that relates to sexual diversity studies, followed by a Q&A based discussion lead by a member of the Sex Salon programming committee. The event is free to attend and typically held on the last Thursday of the month in University College. Calls for participants go out over the summer.
Sex Salon Proposals for the 2023-24 school year are now open! To submit, please visit https://bit.ly/SexSalonProposal. Any further questions and inquiries can be sent directly to sds.sexsalon@gmail.com.
2023-24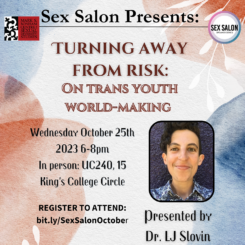 October: Turning Away From Risk: On Trans Youth World Making
In North America, we are currently witnessing heightened conversations regarding the bodies, experiences, and lives of trans youth. There is a proliferation of fearmongering about their existence, leading to books bans, the blocking of gender-affirming healthcare, and legislation that criminalizes discussions of gender and sexuality in schools. These denunciations are mired in widespread understandings of adolescence as a risky period of life. Legislators, parents, and activists on all sides of these issues position children and youth as vulnerable and in need of protection. Reactionary and conservative adults frame youth as at-risk from learning about 'controversial' topics like gender and sexuality in schools while more progressive advocates warn of the possibilities of harm in censoring this knowledge. In this talk, I resist these frameworks and instead consider the agentic ways trans youth are already moving through schools. Drawing on data from a yearlong ethnography with trans youth in a high school in Western Canada, I explore how trans youth daily perform the complex labour of creating other worlds, both on their own and collaboratively, outside of the cisheteronormative logics of their school – worlds where they are not constrained by adults' limited and limiting ideas about gender and what it means to be trans. I am interested in the ways youth reject notions of vulnerability as well as adults' attempts at protection through the worlds they created as they worked to not just survive school but also to explore, understand, and revel in their gender nonconformity.
Archive
2022-23
April: Do you Queer What I Queer: Live Podcast
March: We're hot, we have sex, and we're good at it!": A Conversation at the Intersection of Sexuality, Disability, and Youth
February: Performance Studies Roundtable: Feminist & Queer Critiques
January: Black Queer Identity Expression, Community Building, And Sense of Belonging
November: Exploring and Making Trans Worlds
October: Queerspawn in Queer Communities
2021-22
June: Reflections on Queer/Asia/Canada
May: Theorizing COVID-19: Examining the Impacts of COVID-19 on 2SLGBTQ+ Populations in North America
April: Talking Sex: Engaging with the Pussy Palace Oral Histories
March: Thinking with and Across Burlesque
February: Hot Tub Streams & Wet Media Dreams
December: Sexuality, Disability, and Gender Nonconformity: Turning to Archives of Medicine, Education, and Cultural Production
---
2020-21
January: "It's the Cannabis and Sex Positivity for Me": A Field Guide to Elevating Intimacy with Cannabis Use
February: Poz & Hi in COVID-19: An HIV Research Red Table Talk
March: The Museo de Machistán: Creating an Archive and Digital Exhibit of Mexican Lesbian Nightlife
December: Touching Death: Theorizing Black Queer Afterlife in Times of COVID-19
2019-20
January: Sex Salon Workshop: Queer, Trans, Suburban
February: Queer/Latinx/Mexican
October: Queer Aesthetics and Performance
November: Queer, Creole, Contested: Caribbean Archives Reimagined
2018-19
January: A Queer Kind of Place
November: Unlikely Bonds: Desis, Butches, and Ghosts
2017-18
October: Migration works? Shaping and Reshaping Materialities and Identities
November: Performing Time and Space
2016-17
November: Fetishization and Race
2015-16
January: "Speaking" Sex to Power: Pedagogies of Intimacy and Epistemologies of Touch
February: Homonationalism and Transnational Sexual Politics
April: Outside the Lines: Queer Art and Activism
September: From The Margins: Race, Ageing, and Queer Temporality
October: Citizenship, Migration, and Violence
November: Asexualities, Hypersexualities, and Maximum Visibility
2014-15