Interview with 2022-23 QTRL Artist-in-Residence, Rhoma Spencer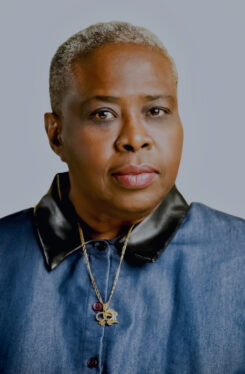 We're thrilled to have you join us as the 2022-23 Artist-in-Residence! What aspect of the residency are you most excited about?
I am most thrilled to have uninterrupted time listening to Calypso Rose's Discography over the years. In addition to sharing my art aesthetic and discourse with students.
What role do you think art plays in how we think about sexual diversity?
Whether it's through music, dance, drama or visual art, I do believe that as art makers we change lives and thoughts when we create our works. The term Sexual Diversity is still new to a generation as mine and I can use my art discipline to bring enlightenment. We quicker remember a song, a dance, a play that speak to Sexual Diversity than a public lecture is my take on it.
Could you share a little about the project you will be working on? How will you be translating the life of Calypso Rose into a musical?
In 2019, I sat with Calypso Rose over three days speaking to her about her childhood and her life in Calypso to write a musical Play on her life. These recordings will now serve as the nucleus to tell that story using chosen calypsos from her discography to support the plot. These Calypso compositions will become an extension of the narrative.
After the past two years, how audiences engage art and theatre have changed in many ways. What shifts do you see in the theatre world and how do you hope things will proceed going forward?
I quite like the shifts made in the theatre world since the pandemic. Like how else would I have been able to see the New York premiere of a play before now? The idea that one can have the luxury of staying at home and attending a play is just one of the welcoming ploys of the pandemic, and how we are able to engage in art and theatre. Going forward, I would like to see both a virtual and an in person component in the way we engage in art now. So my opening night premiere of Calypso Rose Musical in Canada is seen and experienced in real time in Trinidad and Tobago. We cannot go back now to the past. BC.(Before Covid). We have made way too many epic strides now to go back to the same old.
Is there anything else you'd like to share with our community as you step into this role?
I want to make the best time of my position at QTRL not only as an Artist in Residence but to immerse myself in all its scholastic strides and investigations made in Sexual Diversity and Gender Studies as it pertains to my Queer Carib(being)bean.
---
Rhoma Spencer – Actor, Playcreator, Director and Comedian is a veteran Theatre Practitioner practicing in Toronto since 2001. A graduate of York University with an MFA in Directing she formed the now defunct Theatre Archipelago(TA) in 2005 and under her Artistic Direction the company produced Mad Miss /Just Jazz in 2005, Fallen Angel and the Devil Concubine (2006), Twilight Café (2007), I Marcus Garvey (2009) Obeah Opera (2012).
Acting credits include: House of Bernarda Alba (ModernTimes/Aluna), Solitudes (Aluna Theatre), Jean and Dinah (Lordstreet Theatre) Mad Miss, Fallen Angel and the Devil Concubine (TA/bcurrent), Stori Ya (bcurrent) and two seasons of the groundbreaking Afri-Canadian sitcom, Da Kink in my Hair for Global TV. Film: Sound of Tears (Short) which received an African Academy Award for Best Narrative Short (Diaspora). The Apartment (TV series Pilot for CCN TV6, Trinidad). The award winning film, Scarborough (Comfy Films)
Directing credits include: Login Logout Password, Queerantine. Just Jazz, I Marcus Garvey, Our Lady of Spills, Twilight Cafe for Theatre Archipelago, Carnival Medea- Trinidad, For Colored Girls- USA and many more. In addition to stage, she has been the Artistic Director of Pan Alive, the Steelband Music Festival during Toronto Carnival for the three years.
Rhoma is also the recipient of a US House of Congress Proclamation and the Borough President of NYC Proclamation for her contribution to Caribbean Theatre. She is also featured in the Who is Who in Black Canada and in The 50th Independence Anniversary publication of Distinguished Nationals of Trinidad and Tobago in Canada in the field of Arts and Culture. In 2017 she founded Canadian-Caribbean Arts Network and was the Artistic Director of the Canada contingent participating in CARIFESTA XIII in Barbados and again at CARIFESTA XIV in Trinidad and Tobago in 2019. She recently launched her Debut Comedy Album and is also featured in The Kenny Robinson's Nubian Disciples of Comedy 25th anniversary album (2020) available on Amazon, ITunes and Spotify.