CANCELLED: Queer Directions: Queer Futures
Due to a complicated procession of unexpected events, we are sorry to announce the cancellation of this year's Queer Directions Symposium—"Queer Futures"—on March 6.  We tried the best we could to keep the event afloat, but that has become impossible.  We are working hard to bring the speakers to the Bonham Centre in the future.  Please accept our sincere apologies.
The Bonham Centre for Sexual Diversity Studies invites you to join us for the fourth annual Queer Directions Symposium! This year's event is entitled Queer Futures with guest speakers Kara Keeling, Kadji Amin, Qwo-Li Driskill, and Aimee Bahng. It will be held on March 6, 4 – 6PM in the Jackman Law Building, Bennett Hall P120. This event is free and open to the public.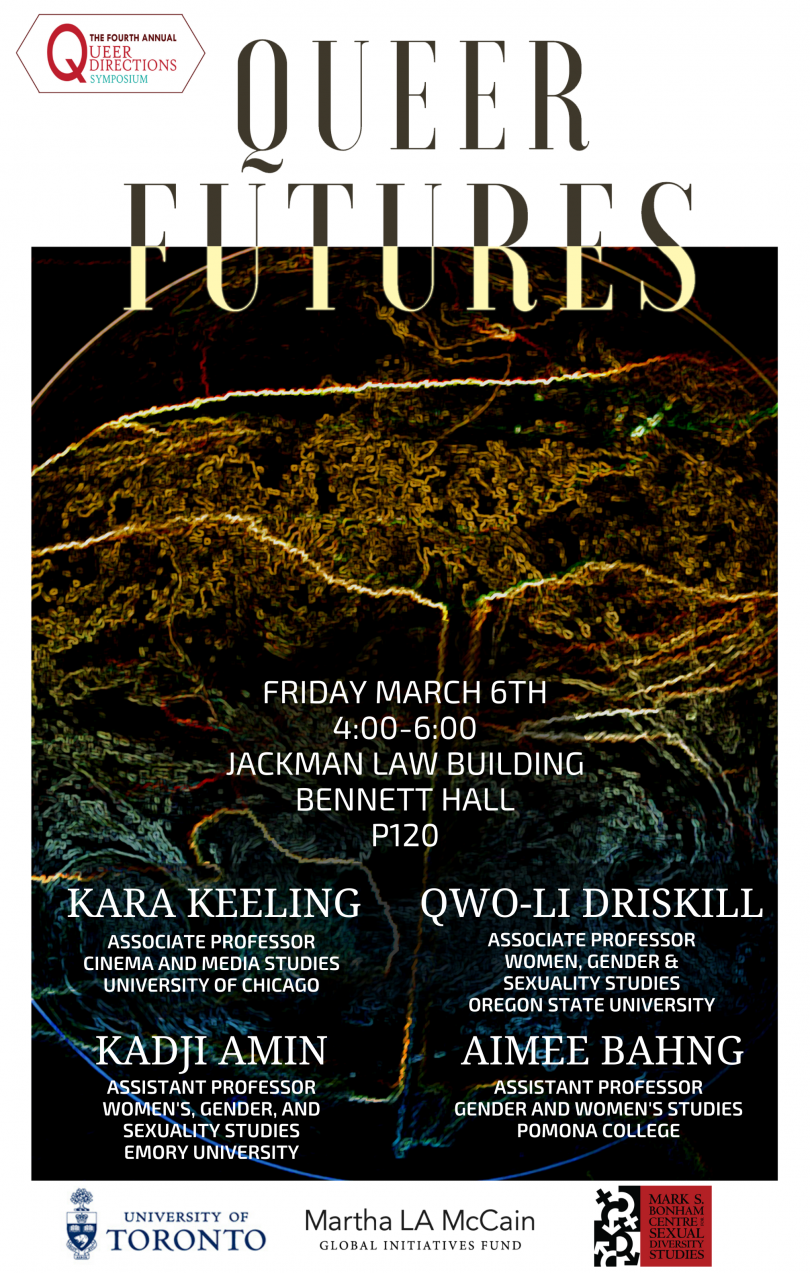 —
Kara Keeling is Associate Professor in the Department of Cinema and Media Studies at the University of Chicago. Keeling's research focuses on African American film, theories of race, sexuality, and gender in cinema and media, black and queer cultural politics, and digital media. Keeling's first book, The Witch's Flight: The Cinematic, the Black Femme, and the Image of Common Sense (Duke University Press, 2007), explores the role of cinematic images in the construction and maintenance of hegemonic conceptions of the world and interrogates the complex relationships between cinematic visibility, minority politics, and the labour required to create and maintain alternative organizations of social life. Her second book, Queer Times, Black Futures (New York University Press, 2019), considers the promises and pitfalls of imagination, technology, futurity, and liberation as they have persisted in and through racial capitalism and explores how the speculative fictions of cinema, music, and literature that center black existence provide scenarios wherein we might imagine alternative worlds, queer and otherwise.
Kadji Amin is Assistant Professor and Director of Graduate Studies in Women's, Gender, and Sexuality Studies at Emory University. His book, Disturbing Attachments: Genet, Modern Pederasty, and Queer History (Duke University Press, 2017), "de-idealizes" Jean Genet's coalitional politics with the Black Panthers and the Palestinians by foregrounding their animation by unsavory and outdated modes of attachment, including pederasty, racial fetishism, nostalgia for prison, and fantasies of queer terrorism. His research, which focuses on the disorienting effects of the queer and transgender past on politicized fields of scholarship, is published or forthcoming in GLQ, Transgender Studies Quarterly, Feminist Formations, Women's Studies Quarterly, among others.
Qwo-Li Driskill is Associate Professor and Director of Graduate Studies in the Department of Women, Gender and Sexuality Studies at Oregon State University. They are the author of Asegi Stories: Cherokee Queer and Two-Spirit Memory (University of Arizona Press, 2016) and Walking with Ghosts: Poems (Salt Publishing, 2005). They are also co-editor of two collections: Sovereign Erotics: A Collection of Two-Spirit Literature and Queer Indigenous Studies: Critical Interventions in Theory, Politics, and Literature, a collection of critical essays with Indigenous-centered approaches to understanding gay, lesbian, bisexual, transgender, queer, and Two-Spirit lives and communities and the creative implications of queer theory in Native studies.
Aimee Bahng is an Assistant Professor of Gender and Women's Studies at Pomona College. Winner of the Science Fiction and Technoculture Studies Book Prize, her first monograph Migrant Futures: Decolonizing Speculation in Financial Times (Duke University Press, 2018) traces the cultural production of futurity by juxtaposing the practices of speculative finance against those of speculative fiction. Professor Bahng serves on the GLQ Caucus for the Modern Language Association and the Queer/Trans (Q/T) Caucus of the American Studies Association. She is co-editor of the "Transpacific Futurities" special issue of Journal of Asian American Studies (2017) and has published articles on transnational Asian/American speculative fiction and financialization in Journal of American Studies, Techno-Orientalism, (Rutgers University Press, 2015), and MELUS. Her second book, Transpacific Ecologies, is currently underway, bringing decolonial, queer and feminist thought to bear on the environment, knowledge production, and dis/ability at the site of the Pacific Ocean.