Grace Lavery, Pleasure and Efficacy: Techniques of Trans Feminist Criticism (Ethics, Aesthetics, Feminisms)
Pleasure and Efficacy: Techniques of Trans Feminist Criticism
"She really knows how to have a good time." Such an assessment presupposes two premises, neither of which we conventionally take for granted: that following certain procedures will produce a good time, and that those procedures can be known in advance. In this lecture, I will explore the logical foundations of these claims, and their implications for the techniques of pleasure-giving and receiving that I take to be essential to the possibility of trans feminist thriving, and the focus of both suppressive patriarchal epistemologies, and anti-trans feminist thought. Through brief and critical readings in the work of the feminist eugenicist Marie Stopes, the cult leader and science fiction writer L. Ron Hubbard, and the anonymously published "big book" of Alcoholics Anonymous, I sketch an historiography of the "one weird trick your doctor doesn't want you to know,"– by which feminists can create anew our own bodies, communities, and politics. In so doing, I aim to refresh Michel Foucault's call in 1977, to "withdraw allegiance from the old categories of the Negative (law, limit, castration, lack, lacuna), which Western thought has so long held sacred as a form of power and an access to reality," and instead to rebuild our world with our own knowledge-practices, trained not on what satisfies, intrigues, or expresses, but on what works.
This is an online event co-hosted by the Mark S. Bonham Centre for Sexual Diversity Studies and the English & Drama Department at University of Toronto, Mississauga. It will be live streamed on the Centre for Ethics YouTube Channel on Wednesday, March 24. Channel subscribers will receive a notification at the start of the live stream. (For other events in the series, and to subscribe, visit YouTube.com/c/CentreforEthics.)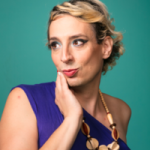 Grace Lavery
English
University of California, Berkeley
Grace Lavery is Associate Professor in the Department of English at UC Berkeley, and general editor of Transgender Studies Quarterly. She is the author of Quaint, Exquisite: Victorian Aesthetics and the Idea of Japan (Princeton 2020), which won the NAVSA "Best Book of the Year" prize, and of Please Miss, an experimental memoir which will be published by Seal Press in 2021. Her essays have appeared in Critical Inquiry, Differences: A Journal of Feminist Cultural Studies, English Literary History, and elsewhere. She is currently completing two books––one on trans feminist rhetorics of technique, from which this lecture is drawn, and one on the problem of narrative closure in the age of the sitcom.
Co-sponsored by: