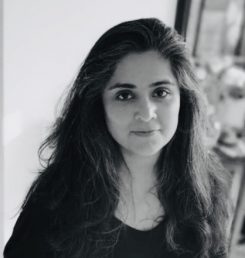 Sara Shroff is the 2023-2024 Visiting Scholar at The Centre for Feminist Research/ Le Centre de recherches féministes at York University and a Fellow at the Center for Sexual Diversity Studies at the University of Toronto. Most recently, Sara was an Assistant Professor at Lahore University of Management Sciences, with joint appointments in Gender and Sexuality Studies and Political Science. From 2019-2021, Sara was the inaugural postdoctoral fellow at Center for Sexual Diversity Studies at the University of Toronto. Her work takes up racialized histories of labor, capital, and coloniality of brown femininities alongside the geo-poetics of desire, migrations, and sacred knowledges. Sara's work has appeared in top academic journals such as Feminist Review, Feminist Theory, Kohl, and Third World Thematics as well as several anthologies in Peace Studies, Feminist Economics, South Asian Studies and International Relations. Sara received her PhD in Urban and Public Policy from The New School and has taught at The New School, New York University, and PACE University. She currently serves on the editorial board of Gender, Place & Culture and as a Co-Editor for the Conversations section of International Feminist Journal of Politics. She previously served as a committee member at the Saida Waheed Gender Institute and Queer Asia. Prior to joining academia, she worked in public policy, global philanthropy and finance for over 18 years.
Select Forthcoming Publications:
"Honor as Property Relations: Tacky Promiscuities and the Sexual Politics of Techno-Necrocapitalism" in Maureen Fadem. The Economics of Empire: Genealogies of Capital and the Colonial Encounter (forthcoming).
"Pious Capital," in Nazia Hussein & Saba Hussain (eds.) Special Issue: Border Thinking' Gender in South Asia, Third World Thematics. (forthcoming).
"Modestly Modern: Minting the "New" Pakistani Working Woman," in Shirlena Huang & Kanchana N. Ruwanpura (eds.) Handbook of Gender in Asia (Cheltenham: Edward Elgar, forthcoming)
"Operationalizing the "New" Pakistani Trans: Legislating Gender Syntaxes and Brown Study" in Ahoona Roy (ed.) Sexuality without Apologies! A Critical Engagement to the South Asian Gender Diversity (forthcoming).
Select Publications
Naveen Minai and Sara Shroff. (2019) "Yaar!: Feminist Friendships and Knowledges of Gender and Sexuality in the Global South", Kohl: a Journal for Body and Gender. Special Issue: Decolonizing Knowledge around Gender and Sexuality (2019) https://kohljournal.press/yaariyan
(2018) "The Peace Professor: Decolonial, Feminist, and Queer Pedagogies," in Margaret Groarke and Emily Welty (eds.) Critical Pedagogy in Peace Studies. New York: Routledge
(2018) Jacquelin Kataneksza, L.H.M. Ling, and Sara Shroff. "Decoloniality: (Re)Making Worlds," in Thomas G. Weiss and Rorden Wilkinson (eds.), International Organization and Global Governance, 2nd Edition. London: Routledge.