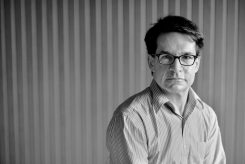 Prof. Stern is a graduate of Berkeley (Ph.D.) and Yale (J.D.). He teaches in the areas of civil procedure, law and literature, legal history, and criminal law. He is the faculty advisor for Out in Law, the law school's LGBTQ students' group. His research interests include legal history, law and sexuality, and intellectual property.
Selected Publications:
"Picturing Same-Sex Marriage in the Antebellum United States: The Union of 'Two Most Excellent Men' in Longstreet's 'A Sage Conversation'" (with Timothy Stewart-Winter), J. Hist. Sexuality 19 (2010): 197-222
"Saki's Attitude," GLQ: A Journal of Gay and Lesbian Studies 1 (1994): 275-98
"Wilde's Obscenity Effect: Influence and Immorality in The Picture of Dorian Gray," Review of English Studies 68 (2017).