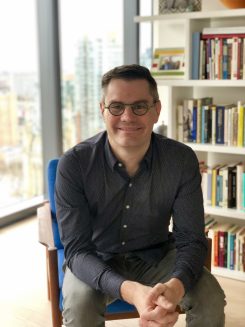 Professor Keilty's primary research interest is the politics of digital infrastructures in the online pornography industry. His work spans issues in visual culture, sexual politics, technology studies, media studies, information studies, critical algorithm studies, political economy, database logic, critical theory, and theories of gender, sexuality, and race. He is the author of more than a dozen peer-reviewed articles, editor of three journal special issues, an edited book, and has delivered more than 40 refereed conference papers and 35 invited lectures.
Through visual analysis, interviews with software programmers, interface designers, and data scientists, analysis of technical literatures, and theories of desire, Keilty's monograph project, provisionally titled Database Desires, examines the strategic choices designers make to structure and regulate sexual desire through algorithmic mediation that attempt to softly persuade viewers into continuing to search for an "imagined perfect image." His research project "Sexy Data" is generously supported by a grant from the Social Sciences and Humanities Research Council. He is Co-Investigator on the Technoscience Research Unit Lab for Environmental Data Justice, which is generously supported through the Connaught Global Challenge Award.
In addition to his appointment in the Faculty of Information, Professor Keilty is Archives Director of the Sexual Representation Collection at the University of Toronto, administered by the Bonham Centre for Sexual Diversity Studies, in University College. He is cross-appointed with the Cinema Studies Institute, Women and Gender Studies Institute, and member of the Technoscience Research Unit. He is co-lead editor for Catalyst: Feminism, Theory, Technoscience. Professor Keilty teaches courses on critical theory, digital theory, feminist and queer technology, and information infrastructures, which are variously cross-listed with Cinema Studies and Women & Gender Studies. He holds a PhD in Information Studies, concentration in Women's Studies (now Gender Studies), from the University of California, Los Angeles.