Elena Basile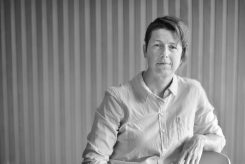 Elena Basile, PhD is a teacher, researcher, poet and translator. Her areas of research include Psychoanalysis, Affect and Queer theory, Canadian feminist multilingual and experimental poetics, and Translation studies. She has written extensively on translation, and Canadian feminist/queer experimental and multilingual writers (essays in New Voices in Translation Studies, Open Letter, Canada and Beyond), and has translated into Italian Nicole Brossard's novel Le désert mauve (Il deserto malva, 2011). Elena Basile collaborates regularly with artists and academics in Italy, Canada and in France. Her present academic research and poetic practice focuses on the politics of feminist queer migrant poetics in the context of translation, multilingualism and the new virtual trans-localities of cultural production and dissemination. Her most recent collaborative work, Transitions in Progress: Making Space for Place (Queen Street, September 1-5, and Paul H. Cocker Architecture Gallery, Ryerson, October 19-24, 2015) is a transmedia participatory project that interrogates myths about Toronto's inclusive multiculturalism, by means of encouraging people to reflect on the city's different language-scapes and their differential valorization in public consciousness.
Elena Basile has collaborated extensively as poet, critic and as translator with the Italian artist collective and artist book publisher Beatrix V.T. Her poetic work in English was recorded in a CD collection of Poetry Readings published by the Frank Iacobucci Centre for Italian Canadian Studies at the University of Toronto (2013). Her work is also featured in the documentary Three Women: Adapting Lives Adopting Lines (Adriana Monti, AZ Media, 2010).
Her courses in the Sexual Diversity Studies Program include Theories of Sexuality I and II (SDS354 and SDS355). She occasionally supervises 4th year students' individual research, and has taught a 4th year seminar on Affect Theory and Psychoanalysis (SDS455 Summer 2013).