Dana Seitler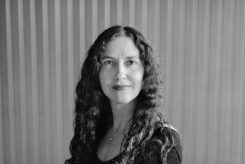 Dana Seitler's teaching and research interests include nineteenth- and early twentieth-century American literature and culture, feminist theory, queer theory and sexuality  studies, cultural studies of science, and visual culture.  Seitler's recent research has focused on her forthcoming work The Art of Sex, a study of aesthetics, sexuality, and gender in modern American culture.  Currently, Professor Seitler teaches Queer Writing for the Sexual Diversity Studies Program.
Selected Publications:
"Making Sexuality Sensible: Tammy Rae Carland's and Catherine Opie's Queer Aesthetic Forms," in Feeling Photography (Duke University Press, forthcoming).
Atavistic Tendencies: The Culture of Science in American Modernity (University of Minnesota Press, Fall 2008).
"Freud's Menagerie, Genre: Forms of Discourse & Culture (Spring/Summer 2005).
"Queer Physiognomies, or How Many Ways can we do the History of Sexuality?" Criticism (Winter 2004).
The Crux, by Charlotte Perkins Gilman. Editor with an introduction (Durham: Duke University Press, 2003).
"Unnatural Selection: Mothers, Eugenic Feminism, and Charlotte Perkins Gilman's Regeneration Narratives," American Quarterly (March 2003).