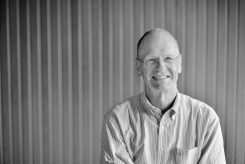 David Rayside is a Professor Emeritus of Political Science, and has been associated with SDS since its beginnings.  He served as founding director of the Bonham Centre from 2004 until 2008, and then as Acting Director from July-December 2012.  He developed a course in the politics of sexual diversity in 1985, and also taught courses in social movements and the role of religion in politics.  Over the last two decades, his published work has focused primarily on the politics of sexuality, including such topics as same-sex relationship recognition, LGBT parenting, and school response to sexual diversity.  His most recent book (co-authored with Jerry Sabin and Paul Thomas) was on the role of religion in Canadian party politics; and he is now working with Momin Rahman (Sociology, Trent) on North American Muslim response to sexual diversity.
These research pursuits have been matched by an activist engagement with issues related to gender and sexual orientation.  He was one of the founders of the Canadian Lesbian and Gay Studies Association (1994-95), the U of T Positive Space campaign (1995) and the Sexual Diversity Studies undergraduate program (1998).  He has served on the governing boards of both the Canadian and the American Political Science associations, and within the University in administrative positions at University College and Political Science.  In 2014, he was elected a fellow of the Royal Society of Canada.
Selected Publications
Religion and Canadian Party Politics, co-authored with Jerald Sabin and Paul Thomas (UBC Press, 2017)
"Canadian LGBT Advocacy Since Winning Marriage Rights," in LGBT Rights After Same-Sex Marriage, ed. Carlos Bell (New York: NYU Press, 2016)
"Queer Advocacy in Ontario," in Queer Mobilizations: Pan-Canadian Perspectives, ed. Manon Tremblay (Vancouver: UBC Press, 2015)
"The Inadequate Recognition of Sexual Diversity by Canadian Schools:  LGBT Activism and Uneven Institutional Response," Journal of Canadian Studies 48, 1 (winter 2014): 190-225
Conservatism in Canada, co-edited with James Farney (Univ. of Toronto Press, 2013)
Faith, Politics, and Sexual Diversity in Canada and the United States, co-edited with Clyde Wilcox (UBC Press, 2011)
"Muslim American Communities' Response to Queer Visibility," Contemporary Islam 5, 2 (July 2011): 109-34.
Queer Inclusions, Continental Divisions: Public Recognition of Sexual Diversity in Canada and the United States(University of Toronto Press, 2008)
Equity, Diversity, and Canadian Labour, ed. Gerald Hunt and David Rayside (Toronto: University of Toronto Press, 2007)
On the Fringe: Gays and Lesbians in Politics (Cornell University Press, 1998)