Interview with Syrus Marcus Ware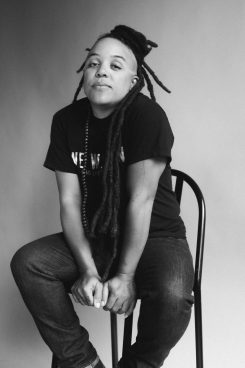 As the winter term begins today, we bring you an interview with Syrus Marcus Ware, who is teaching our SDS381: Intro to Trans Studies course this year.
1. This will be your first time teaching the course for SDS, what should students expect?
We will be delving into the history of trans people and the many stories about trans activism here and around the globe. We will be taking an intersectional approach and will center the voices of racialized and marginalized trans people in the course.
2. What is your background with the material? How does your experience as an artist and activist influence your teaching?
My MA research is in Trans Studies and explored the experiences of trans students in post secondary environments and the development of trans studies curricula in North America. I've been a trans activist for two decades and was responsible for many trans firsts in Canada, creating the first trans parenting course in North America (Trans Fathers 2B, 2007) and the first trans sexual health guide for queer trans men in the world (Primed, 2006).
Being an artist and an activist informs my teaching greatly. Creative approaches rooted in activist history will inform the course!
3. How will an introductory course on Trans Studies impact undergraduate students and why do you think it's important to teach this course with a greater focus on an intersectional framework?
This course is an essential guide to understanding gender and the wonderful history of trans lives and organizing here and abroad. The course is a great way for students to get familiarized with trans issues and trans lives.