Interview with Maya Chacaby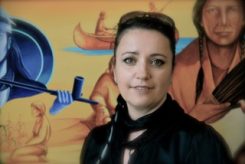 As we look forward to the coming winter term, the SDS department is excited to offer a new Special Topics course on Queer Indigenous Politics and Culture. We asked course instructor Maya Chacaby to share her vision and her thoughts on the significance of this course.
1. This is a new course for SDS this year, what should students expect?
I think I described it best in the syllabus when I titled the second week theme: Indelible violence of colonial hetero-normativity and the power of queerness to fuck that shit up: How to be an un-settler in settler colonialism. I think that sums up the entire course.
My hope is that students go on a journey with me to understand their own inherited responsibilities on Turtle Island using Anishinaabe Two-Spirited politics and culture as a way to creatively un-settle colonial-heteronormative violence. Students will be encouraged to work through creative decolonial processes that include understanding historical trauma and its impact on Queer Indigenous political movements, as well as culture-based frameworks for resisting colonial violence, reclaiming Indigenous sexuality, reconstructing contemporary Indigenous lifeworlds, and Queer politics of action both in urban and reserve communities
As far as my teaching style goes, students can expect a blame/shame free space for creative wonderings, Anishinaabe humour, and swearing. My teaching style is based on working with humans to take that hard journey from their heads to their hearts and open up to wonderings rather than getting stuck in "knowing" facts. I believe that Anishinaabe pedagogy occurs beyond dead words on paper and I treat dreams, visions, ceremonies, traditional stories, and other Indigenous ways of learning as equally legitimate to book learning.
2. What is your background with the material? How does your work with community engagement influence your teaching?
I think the most important qualifications that I carry first is my Clan, and second is my language. Sure I have some fancy academic letters and publications, but those mean very little in my community. Clan and language are much more important qualifications. I ground every concept or theory in my language as a way to open up to a different worldview and the creative possibilities that it inspires. In Anishinaabe governance, Kin and Clan are regenerative forces that guide our conduct and life purposes. As Amik (Beaver) Clan, I am responsible for creating new social environments and working in community to un-settle the status quo. My work in First Nations communities across the province has focused on developing resurgence movements that are grounded in cultural continuity as the most crucial "wise-practice" for addressing colonial violence. Rather than "Coming out" to mainstream society, as a Two-Spirited person my responsibility is a "coming in" process through sharing my gifts and working with community to build an awareness of their own gifts and inheritances from Spirit. In this way, my expertise has focused on developing culture-based resurgence movements that can withstand the pressures contemporary colonization—particularity emotional colonization. The most important "material" that I work from is not academic material but rather teachings from community and from the Elders who have sacrificed their lives for our continued existence. This is the work that influences me the most. Theory means very little in Indigenous communities without practice or practical application and while I love the theoretical work of academia, my heart is nourished by community practice. Work in community is what I have dedicated my life to more than any academic career.
3. How will a course on "Queer Indigenous Politics and Culture" impact undergraduate students and why do you think it's important to teach this course now?
I am extremely excited to go on this journey in an undergrad class on Queer Indigenous Politics and Culture. I truly believe that our collaborative and creative, culture-based wonderings will occupy a space in academia that has long been under violent erasure.