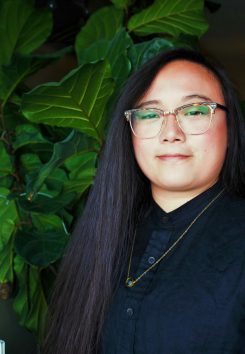 As the school term begins again, the SDS department is excited to offer a new Special Topics course on Queer Migrations and Refugee Politics. We took a moment to ask course instructor Lynn Ly about her vision for the course and the significance of this topic.
This is a new course for SDS this year, what should students expect?
I was really excited to hear about this new course offering. Students should expect a deep dive into the experiences and intellectual contributions of queer and trans migrants. This course is concerned with, on the one hand, how settler colonial borders represent a regime of racial-sexual discourses, practices, and institutions that are central to state building, and, on the other hand, how the queer ideas and lives of immigrants, migrants, and refugees disrupt hegemonic notions of family, civility, genealogy, home, and blood that are used to secure and cross borders. How do borders promise safety and belonging from alien others? How are terms like "citizen", "migrant", "immigrant", "illegal" and "refugee" political? What forces compel and prevent movement? For whom is belonging an impossibility? What happens to the term "queer" and queer theory when it migrates to other places and with other sensibilities? Queer and trans migrants of colour have been at the forefront of answering these questions. And for good reason. Their insights provide an important analytic for thinking about global forces, race, and sexuality as mutually constituted. They connect larger global economic systems to the more intimate relations of moral sentiment, gender performance, kinship structures, respectable reproduction, and normative desire. Most importantly, I think their struggles to create other—often unsanctioned—forms of refuge, love, and belonging are queer wisdoms I think we should listen very carefully to.
What is your background with the material?
Queer of color critique, queer diaspora, and transnational feminisms deeply inform my approach to this course.These genealogies of thought refuse the historical separation of sexuality, bodies, and performance from race, colonialism, political economy, and the state. This framework illuminates both the generative methodological possibilities of queer theory, and some of its gaps concerning race and coloniality. It gives me a certain grammar for thinking about how extremely uneven global power structures shape the livability of space for some over others based on racial, gendered, and sexual classifications. It also critiques how queer people and queer theory are not inherently innocent or revolutionary. Queer people are not necessarily free from complicity in perpetuating anti-immigrant discourses, for instance. And many queer theory texts still undervalue and obscure the intellectual contributions of queer and trans migrants of colour. Their lived experiences and thoughts not only ground my methodology, but also my pedagogical approach. I think if we start from queer and trans migrants of colour's negotiations of multiple physical and intellectual displacements, their negotiations of borders as places of sexual, racial, and settler violence, or their negotiations of queer theory's provincialism, so many more conversations about queerness and migration can happen.
How will a course on "Queer Migrations and Refugee Politics" impact undergraduate learners and why do you think it's important to teach this course now?
Toronto is a special place to teach this course. It's a place where a large portion of the population migrated here from elsewhere or were born from people who migrated here. The violences and joys of everyday encounters between those who believe they are from here, elsewhere, and otherwise open up so many possibilities for a different kind of collectivity and relationality. In many ways, this also makes this course difficult to teach here, now. The Sexual Diversity Studies program here has a unique opportunity to bring the concerns of immigrants, refugees, and migrants to questions of sexuality, gender, and kinship in the classroom. Many undergraduate students will have experienced migration in some form, and are most likely listening very anxiously to current debates around immigration detention centres, the expansion of border security apparatuses, as well as the targeting of black and brown people as bad, illegal, un/deserving, or non- citizens. Queer immigrant students will no doubt notice the current hypervisibility of these issues in the media is happening just after the recent inclusion of gays and lesbians into the state apparatus, which relied on notions of rhetoric patriotic feeling, and universal love and family. In fact, the No Borders movement happened around the same time as same-sex marriage activism, but they are not often talked about together. The recent creation of "sanctuary" zones by groups like No One Is Illegal—in coalition with black, indigenous, queer and trans, feminist, and worker groups—has serious implications for queer politics. The politicization of "sanctuary" calls for a renewed thinking about how immigration, globalization, and war participate in our public and private articulations of queer freedom. Some of these conversations may appear to be recent to some people, but none of these issues are new issues. They are as old as the colonial state. I hope this class will become a space for students to think collectively about these contradictions, and find inspiration in the long history of struggle and resistance against settler colonial border violences.