A Conversation with Laura Horak: Trans Porn Imaginaries, A Half-Century of Transvestite Lawmen and Gendertrash from Hell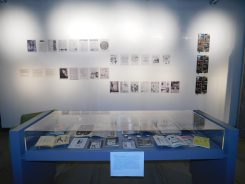 With the Queer Directions symposium taking place tomorrow, we'd like to introduce the exhibit accompanying this year's theme of Trans/Formations! The curator, Laura Horak, offers her thoughts on the exhibit and how she went about choosing which materials to display. You can find more photos of the exhibition here, and see the actual exhibit in person on the fifth floor of the Faculty of Information, at 140 St. George St.
Could you give us an introduction to yourself and your work?
I'm an Associate Professor of Film Studies at Carleton University. I research the interconnections between gender and sexuality with cinema and media cultures. I have written about the massive popularity of cross-dressed women in American silent cinema and on the cultural productivity of recent DIY trans YouTube videos. Right now I am researching the history of films made by trans, Two-Spirit, intersex, nonbinary, and gender-nonconforming people in Canada and the United States. I am also building a collaborative, online database called the Transgender Media Portal to make these films easier to find and program. You can follow our progress at @transmediaportl on Facebook, Twitter, and Instagram.
What inspired you to organize this particular exhibition around trans erotic and pornographic representation? How did you choose which pieces you would feature?
Patrick Keilty, Director of the Sexual Representations Collection (SRC) at the Bonham Centre for Sexual Diversity Studies, invited me to explore the collection in order to design an exhibit that would resonate with the Trans/Formations symposium on March 15. It is very rare and valuable to have a collection of erotic and pornographic material, since so many state and institutional archives either refuse to preserve this type of material or keep their collections secret. To figure out what pieces to include, I read through the collection's finding aids to find any kind of trans-related material. Because the various collections in the SRC are so different from each other—from the VHS tapes of a shuttered adult video store, to the archives of Toronto's Feminist Porn Awards—the material I found is somewhat haphazard. Thus, the exhibit does not claim any kind of comprehensiveness; instead it provides snapshots of trans erotic representation in a few different popular mediums at different times in history. The exhibit offers a kind of smorgasbord.
Most of the trans content in the SRC was created by (and largely for) cis people, so I asked the Canadian Lesbian and Gay Archives if we could borrow material from the Gendertrash and Mirha-Soleil Ross collections in order to give more space to trans-authored work. Ross and her partner Xanthra Phillipa MacKay were important trans cultural producers in Toronto in the early 1990s. I will say that the even going to the CLGA, the trans archival material is dominated by representations of white trans women and trans men. Indigenous people, people of color, and nonbinary trans people are notably absent. These absences reflect not only what gets made but, just as much, what gets saved and put into an archive.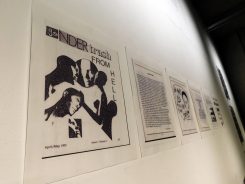 How do you feel about the conclusion of a publication like Gendertrash? What are your thoughts on its influence now?
Gendertrash was so amazing. I'm sad that it only lasted for four issues! Zines have provided such an incredible space for creativity and community. It's wonderful that the CLGA is digitizing it and making it available online. I encourage everyone to go to the CLGA's site and read all of it!
What's your favourite piece in the exhibition and why?
I think it would have to be the cross-dressing BDSM zines from the 1950s to 1970s. We sometimes like to think that everything started recently, but these zines reveal this hidden world of BDSM fantasies in the midst of a fairly conservative culture. They are such mysteries! Who made them? Who bought them? What was the secret community constituted by these zines?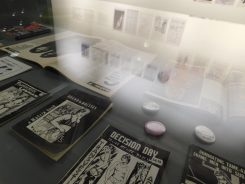 Be sure to view the exhibit in person to see the full collection!