Kai Cheng Thom Book Launch for "Falling Back In Love with Being Human"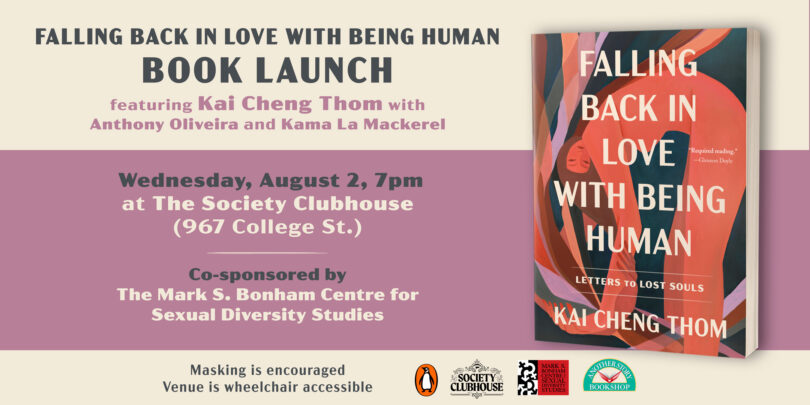 Join us for the launch of Kai Cheng Thom's new book Falling Back In Love With Being Human.
With special guests Anthony Oliveira and Kama La Mackerel
Date: Wednesday August 2nd, 2023, 7:00pm
Location: The Society Clubhouse (967 College St.)
Free! All welcome. Masks strongly encouraged.
Presented by Another Story Bookshop and Penguin Canada.
Co-sponsored by the Mark S. Bonham Centre for Sexual Diversity Studies.
Kai Cheng Thom grew up a Chinese Canadian transgender girl in a hostile world. As an activist, counselor, conflict mediator, and spiritual healer, she's always pursued the same deeply personal mission: to embrace the revolutionary belief that every human being, no matter how hateful or horrible, is intrinsically sacred.
But then Kai Cheng found herself in a crisis of faith, overwhelmed by the violence with which people treated one another, and barely clinging to the values and dreams she'd built her life around: justice, hope, love, and healing. Rather than succumb to despair and cynicism, she gathered all her rage and grief and took one last leap of faith: she wrote. She wrote letters that were prayers, or maybe poems, or perhaps magic spells. She wrote to the outcasts and runaways she calls her kin. She wrote to flawed but nonetheless lovable men, to people with good intentions who harm their own, to racists and transphobes seemingly beyond saving. What emerged was a blueprint for falling back in love with being human.
KAI CHENG THOM is a writer, performance artist, and community healer. She is the author of the novel Fierce Femmes and Notorious Liars, which was chosen by Emma Watson for her online feminist book club and shortlisted for the Lambda Literary Award. Her poetry collection a place called No Homeland was an American Library Association Stonewall Honor Book, and her essay collection, I Hope We Choose Love, received a Publishing Triangle Award. She writes the advice column "Ask Kai: Advice for the Apocalypse" for Xtra.