Hardwire: The Undergraduate Journal of Sexual Diversity Studies is a medium for undergraduate students at the University of Toronto to publish and showcase their writing. Hardwire grew out of The Sexual Diversity Studies Undergraduate Journal, which was founded in 2006 to showcase scholarly work by undergraduates in the field of sexual diversity. After a few years' hiatus, the journal returned with its second issue in 2019.
Hardwire is an interdisciplinary journal centered around the critical analysis of human sexuality. We centre queer, intersectional, critical race, decolonial, and feminist analyses, and seek to dismantle heteropatriarchy, white supremacy, colonization, and other systems of oppression through our work.
We strive to create an alternate academic space which highlights the voices of queer + BIPOC students and interjects vital perspectives into academia. We also challenge the confines of what is viewed as academic by publishing a range of mediums within our academic journal, including creative pieces. Work from students of all programs and disciplines is welcome, as Hardwire wishes to expand and challenge how we view sexuality and the many ways in which it is at play within our lives.
Hardwire is entirely run by undergraduate students at the University of Toronto. Currently, the editorial board of Hardwire is made up of eighteen editors stemming from multiple programs of study.
For more information about Hardwire or to ask any questions, email us at hardwirejournal@gmail.com
Editorial Board
Are you interested in the study of sexuality? Do you want to get involved in publishing undergraduate academic work on campus? Hardwire: The Undergraduate Journal of Sexual Diversity Studies welcomes you to apply for its 2021-2022 editorial board! Hardwire is a student-run academic journal which publishes interdisciplinary undergraduate work critically analyzing sexuality. We're looking for new members to join our team and help put together the fifth issue of Hardwire! Applications to both Junior Editor and Senior Editor positions, administrative positions, and design positions are now open to undergraduate students at UofT in all programs and years of study. Applications close October 1st, 2021 at 11:59 PM EST.
Additional questions can be directed to hardwirejournal@gmail.com.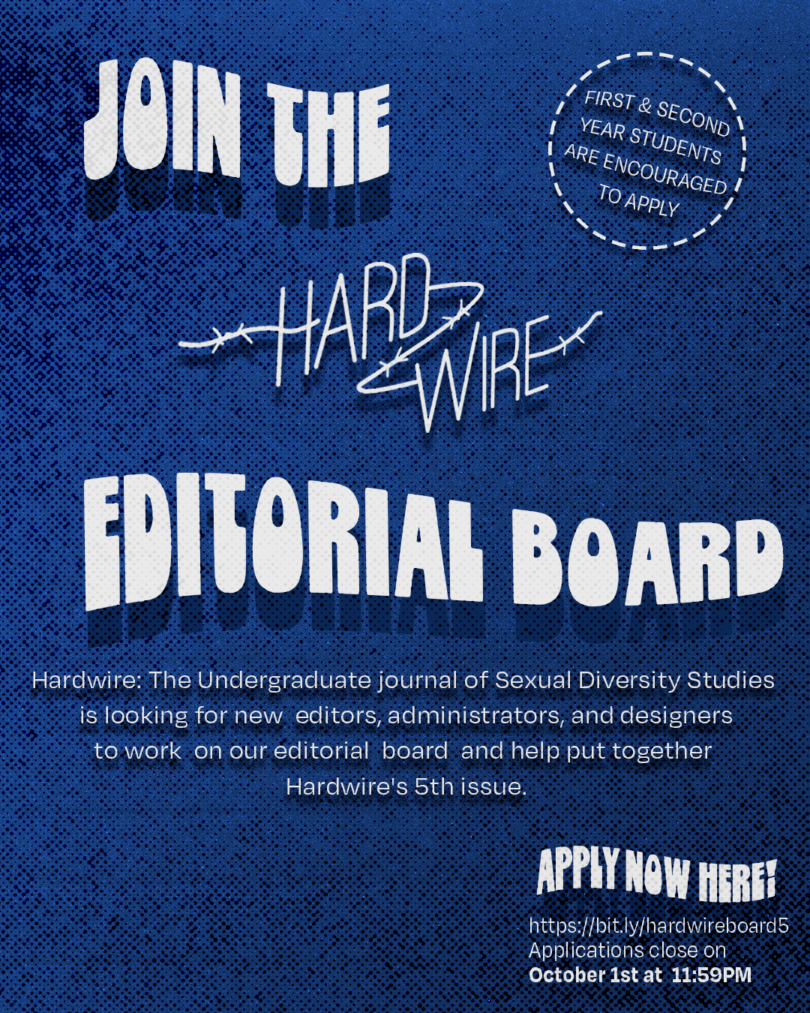 ---
Current Publication
Hardwire2020-21

Previous Publications