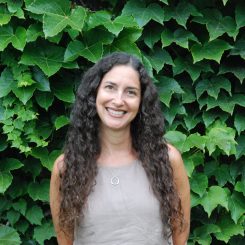 Dana Seitler's teaching and research interests include nineteenth- and early twentieth-century American literature and culture, queer theory and sexuality studies, feminist theory, cultural studies of science, aesthetics, and visual culture. Seitler is the author of two books: Atavistic Tendencies: The Culture of Science in American Modernity (University of Minnesota Press, fall 2008) and Reading Sideways: The Queer Politics of Art in Modern American Fiction (Forthcoming, Fordham University Press). Currently, she is working on a new book entitled Broken Life: Withdrawal, Ecstasy, Biopolitics on addiction, suicide, and other forms of self-risk. Professor Seitler teaches Queer Writing for the Sexual Diversity Studies Program.
Selected Publications:
"Willing to Die: Addiction, Desire, and other Ambivalences of Living" Cultural Critique
Vol. 98 (Winter 2018).
"Suicidal Tendencies: Notes Toward a Queer Narratology of Non-Closure" (forthcoming GLQ: A Journal of Lesbian and Gay Studies)
"Strange Beauty: The Politics of Ungenre in Rebecca Harding Davis's Life in the Iron Mills," American Literature, 86: 3 (September 2014).
"Making Sexuality Sensible: Tammy Rae Carland and Catherine Opie's Queer Aesthetic Forms" in Feeling Photography, ed. Thy Phu and Elspeth Brown (Durham, N.C.: Duke University Press, 2014).
"Queer Physiognomies, or How Many Ways can we do the History of Sexuality?" Criticism (Winter 2004).
Email: d.seitler@utoronto.ca