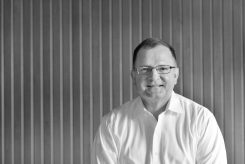 Head, Book and Serials Acquisitions, University of Toronto Libraries
Don McLeod is the liaison librarian for Sexual Diversity Studies. He holds a Master's degree in Library Science from the University of Toronto (1983) and a BA in Classical History and Archaeology (1980) from the University of Calgary. Don has conducted much research and documentation on Canadian gay history, particularly for the period 1945–80. Since 1984, he has worked as a volunteer at the Toronto-based Canadian Lesbian and Gay Archives, one of the largest GLBT archives in the world. He has published several books on Canadian gay history, and articles and reviews in a variety of publications, including the Dictionary of Canadian Biography, the History of the Book in Canada, and the Papers of the Bibliographical Society of Canada. Currently, Don works as the Head of Book and Serials Acquisitions at Robarts Library, the heart of the University of Toronto's library system. In addition to his library duties, McLeod edits the Devil's Artisan, a journal of the printing arts, is the Secretary of the Board and Chair, Publications Committee, of the Champlain Society, and is on the advisory committee of Gale Cengage's Archives of Sexuality and Gender project.
Selected Publications:
Lesbian and Gay Liberation in Canada: A Selected Annotated Chronology, 1976–1981 (2017).
A Brief History of GAY: Canada's First Gay Tabloid, 1964–1966 (2003).
Challenging the Conspiracy of Silence: My Life as a Canadian Gay Activist, by Jim Egan, compiled and edited by Don McLeod (1998).
Lesbian and Gay Liberation in Canada: A Selected Annotated Chronology, 1964–1975 (1996).