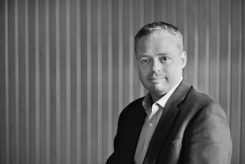 Kevin Beaulieu is the Executive Director of Public Interest Strategy and Communications, which works with public, not-for-profit, and labour organizations to support social change, improve the environment, facilitate community development and promote progressive public policy. He has a long history of involvement in municipal government and LGBTQ communities in Toronto and internationally.
As the Executive Director of Pride Toronto and WorldPride Toronto 2014 from 2011-2014, Kevin oversaw the production of the signature public event of Toronto's LGBTTIQQ2SA communities, and one of Toronto's highest-profile and best-attended cultural festivals. His work on WorldPride, one of the largest international events ever hosted by the City of Toronto, earned him recognition as one of the Toronto Star's "Ten People to Watch in 2014" who "delivered on their promise." Prior to that, he served for 8 years at Toronto City Hall as the executive assistant to two city councillors and as chief of staff to the chair of the Toronto Transit Commission.
As an English student at the University of Toronto at Mississauga (then Erindale College,) Kevin was involved in LGBTQ life as the Coordinator of the campus LGBTQ organization, LGBTOUT, which led to his further involvement in the broader Toronto community.