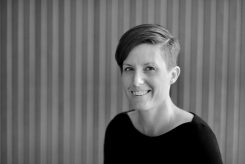 Chrystal has been working and volunteering in the LGBTQ community for over eight years.
Currently the Executive Director of the Self-Help Resource Centre (www.selfhelp.on.ca) in Toronto, she focuses on and believes in the power of community; when people gather with common purpose and experience, movements are created.
Chrystal has spent the last nine years working with producers of arts and culture in Toronto, London and Australia to entertain, educate and transform lives by providing a platform to those global stories and voices yet to be heard. Her most recent role as WorldPride Manager for Pride Toronto saw her steer one of the largest international events ever hosted in Toronto, dubbed an historic and overwhelming success. In 2014, Chrystal was listed by Toronto Star as one of eight local heroes for her commitment to the Lesbian, Gay, Bisexual, Trans (LGBT) community, was officially recognized by the City of Toronto for her contribution to WorldPride, and received a "Rainbow Warrior 2014" award "for outstanding support for international LGBT solidarity and LGBT culture" as awarded by the International Lesbian and Gay Cultural Network.
As Vice President of TasPride in Tasmania, Australia, she saw the non-profit organization through a transition from a small community organization to a presenter of major events on the national LGBTIQ calendar, including a two-week arts and culture festival. She spent five years working for the Tasmanian Department of Economic Development, Tourism and the Arts running signature recognition events and conferences for the sport and recreation, and screen (film, television and digital media) industries.
Chrystal specializes in capacity building, strategic partnerships, brand, and marketing communications. She holds a BA in Communication Studies, with majors in Public Relations and Media Production. She is passionate about equity, education, self-determination, and social justice.