Events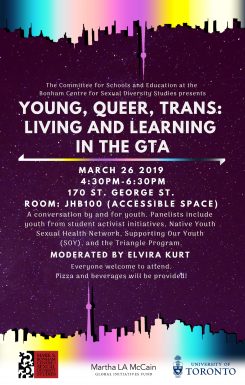 Young, Queer, Trans: Living and Learning in the GTA
March 26th 2019 at 4:30 PM – 6:30 PM
The Committee on Schools and Education at the University of Toronto Bonham Centre for Sexual Diversity Studies is hosting a panel entitled Young, Queer, Trans: Living and Learning in the GTA.
The panel features a conversation among 6-8 LGBTQ2S+ youth advocates and activists from the GTA who will discuss the struggles, hopes, and aspirations of a new generation of change-makers. It features young people who have pushed for affirmative sex education, are leaders in their communities, involved in creating/participating in community resources and support systems for LGBTQ2S+ youth, and challenging their schools to be places of learning for ALL students. The evening will end with pizza and pop. Please join us!
Time: March 26, 4:30-6:30PM
Location: Jackman Humanities Building, 170 St. George St., rm 100.
This space has wheelchair access and wheelchair accessible and all-gender bathrooms.