Events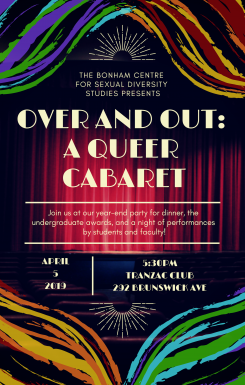 Year End Party: Over and Out, A Queer Cabaret
April 5th 2019 at 5:30 PM
We have made it through another year (almost) and we are ready to celebrate! You are invited to attend the Centre for Sexual Diversity Studies end of the year party: Over & Out: A Queer Cabaret on Friday, April 5, 5:30 PM at the Tranzac Club (292 Brunswick Ave). We are holding this party to celebrate all of our students in the undergraduate and graduate collaborative programs. We will announce the winners of this year's undergraduate awards and raise a glass to each one of you for your hard work throughout the year. There will be food, a cash bar, and fabulous performances by students, staff members, and faculty!
We can't wait to see you!
Dana, Dai, and the SDS Staff
P.S. The Cabaret will also feature the return of our undergraduate journal, Hardwire: the Undergraduate Journal of Sexual Diversity Studies. Founded in 2006, Hardwire is an interdisciplinary journal that showcases undergraduate scholarly work in sexual diversity studies. After a long hiatus, the journal has returned with its 2018-2019 issue. Come out to the end of year party to meet the journal editors, discuss the editing process, and talk to the authors published in Hardwire about their excellent work!