Events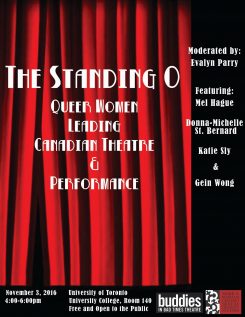 The Standing O: Queer Women Leading Canadian Theatre & Performance
November 3rd 2016 at 4:00 PM – 6:00 PM
Join us for a discussion on queer theatre and performance in Canada, with four innovative and provocative theatre practitioners currently leading the charge, and creating exciting and challenging works in the country.
The panel discussion will focus on gender and leadership in the queer performance community and consider the intersections of race, gender and sexuality in theatre and performance.
Moderated by Buddies in Bad Times Theatre's Artistic Director, Evalyn Parry, the panelists for the event include: Mel Hague, Katie Sly, Donna-Michelle St. Bernard and Gein Wong.
Date: November 3, 2016
Time: 4:00-6:00pm
Location: University of Toronto, University College Room 140
Free and Open to the Public!