Events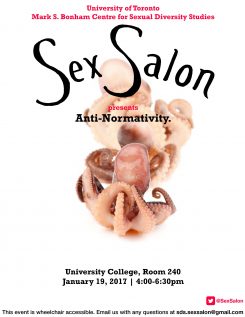 Sex Salon: Anti-Normativity
January 19th 2017 at 4:00 PM – 6:00 PM
The University of Toronto Mark S. Bonham Centre for Sexual Diversity Studies presents the SEX SALON Speaker Series: ANTI-NORMATIVITY.
"Trans/Disability: Reconceiving Trans Through Critical Disability Studies" by Evan Vipond
"Cherchez la Femme: The Aesthetics of Anti-normativity in Queer Communities" by Laura Brightwell
"Curtain Fic, Sex Pollen and Bestiality: Redefining the Kinky and Normative in Online Fanfiction" by Angela Fazekas
"Kink and History: The Evolution of Fetish/BDSM" by Edward Shorter
Chair: Paloma Holmes

When: Thurday, January 19, 2017 from 4:00pm – 6:30pm
Where: University College Room 240
This event is wheelchair accessible. For barrier free access, questions, or more information contact us at sds.sexsalon@gmail.com
ABSTRACTS AND BIOS:
"Trans/Disability: Reconceiving Trans Through Critical Disability Studies" by Evan Vipond
Abstract:
The inclusion of gender dysphoria in the DSM-V diagnoses trans persons as suffering from a psychological disorder, which offers trans persons the possibility of medically transitioning. This diagnosis has allowed (some) trans persons to secure rights by citing disability clauses in anti-discrimination laws. Arguably, both medical and legal policies further pathologize trans persons as suffering from a mental disorder and disability, respectively. The intersection of transsexuality and disability has typically focused on disabled trans persons. However, restricting trans disability to trans persons with disabilities fails to consider the ways in which trans persons may experience their "transness" as debilitating (Baril 2015). While some trans persons challenge the social and political consequences of casting transness as disability, these arguments are often rooted in ablism. Drawing from critical trans and disability theories (Baril 2015; Clare 2013), I explore the ways in which gender dysphoria can be understood as debilitating, while transphobia and cissexism intersect further disabling trans persons. Through critical disability and accessibility politics, trans bodies and health care can be approached in a way that does not further pathologize trans identities or reinforce ablist discourses and practices, while meeting the needs of the trans persons in an accessible and trans-positive way.
Bio:
Evan Vipond is a Ph.D. student in Gender, Feminist and Women's Studies at York University, where they hold the SSHRC Joseph-Armand Bombardier CGS Doctoral Scholarship (beginning September 2016). Evan obtained a Master's in Women and Gender Studies in collaboration with Sexual Diversity Studies from the University of Toronto in 2014. Their work challenges the regulation of trans bodies and identities under medical and legal policies, as well as through neoliberal discourses of individualism, productivity, equal rights, and social progress. Evan's work has been published in Theory in Action (2015), The Western Journal of Legal Studies (2015), and Queer Cats Journal of LGBT Studies (2016).
"Cherchez la femme: the aesthetics of anti-normativity in queer communities" by Laura Brightwell
Abstract:
How do we know if someone is queer? What does queer look like? The answers to these questions inform who we do and don't include in queer communities. This presentation argues that queer's theoretical investment in anti-normativity contributes to an aesthetics that overvalues masculinity and devalues femininity. Femininity has become equated with female oppression, conformity and heteronormativity. Although this femmephobia is a well-known phenomenon, it is under-theorized in the academy. While queer theory comfortably celebrates transmasculinities, 'transfemininities' remains an oxymoron and largely unexplored.
The presentation will start by exploring how queer anti-normativity is embodied via blogosphere discussions of what queer does and doesn't look like. It will then look to the counter-aesthetics present in femme cultural production. This critique unravels the association of normativity with femininity and makes a case for a feminine queer aesthetic. Photos from The Berlin Femme Show 2012 will illustrate how these performances of queer femininity take up and subvert traditional ideas of femininity. Finally, however, this presentation hopes to challenge the association of queerness with the oppositional and asks if there are less violent ways to define queer's borders.
Bio:
Laura Brightwell is a PhD candidate in Gender, Feminist & Women's Studies at York University. A long-time activist, organizer and traveller, she has been involved in queer communities across several countries. She edited and published the bilingual zine Dressed Like That: Feminine Voices on Sexism in the Queer Community/Feminin Stimmen über Sexismus in der Queeren Szene and curated the international cabaret The Berlin Femme Show 2012. She has led numerous workshops on sexism in the queer community at feminist and queer festivals. She also writes on Canadian queer politics for rabble.ca.
"Curtain Fic, Sex Pollen and Bestiality: Redefining the Kinky and Normative in Online Fanfiction" by Angela Fazekas
Abstract:
In 2015, an issue of the journal Differences asked us what queer theory would look like if it was not primarily aligned as oppositional to normativity. In this paper I take up this line of questioning in regards to erotic fanfiction (stories written by fans that reimagine and rewrite popular culture texts). Specifically, I consider communities known as kink memes where fans anonymously post kinky or erotic story prompts that other fans then anonymously write. The conceptualization of what constitutes a kink in these spaces is exceptionally broad and ranges from platonic hand-holding to requests for stories about bestiality, bloodplay and necrophilia.
Accordingly, in this paper I explore kink memes as a site where kink is not positioned as oppositional to "normative" sex, but as existing on a continuum where every sexual practice can be a kink – a space of enacting moments of queer futurity and queer utopianism (Muñoz, 2009) in the visceral, carnal celebration of sex of all sorts. Simultaneously, however, I trouble this utopian conceptualization by asking whose futurity is being upheld in stories involving kinks that rely on racial and colonial histories – can these as well be broken open and upended or do they simply end up reifying racist and white supremacist ideologies?
Bio:
Angie Fazekas is a PhD candidate at the Women and Gender Studies Institute at the University of Toronto, having completed her Master's Degree in Gender Studies at Queen's University in Kingston, Ontario. She is in the early stages of her dissertation and her research focuses on the intersections of gender, sexuality and race in erotic slash fanfiction.
"Kink and History: The Evolution of Fetish/BDSM" by Edward Shorter
Abstract:
Fetish and bdsm are actually two separate kinds of behavior, though they overlap. Bdsm is probably age-old, and the first references begin in the 15th century. Fetish, as an accelerant of sexual desire, seems not to have been common before the late nineteenth century, and an inflection point is the publication of Leopold von Sacher-Masoch's Venus in Fur in 1870. In time, the principle fetish objects shift from the wide variety associated with Richard von Krafft-Ebin's Psychopathia Sexualis to leather, later latex. In bdsm, recent developments have been: (1) increasing images of bdsm scenes involving penetration; (2) the huge bump-up in popularity of "vanilla" bdsm associated with the novel Fifty Shades of Grey in 2012; (3) the emergence among couples of the theme of dominant women, submissive men. A public lecture on this subject would make extensive use of materials, some of which are highly explicit, from the Kinsey Institute for Sex Research in Bloomington, IA, and from the adult entertainment industry.
Bio:
Edward Shorter is the Jason A Hannah Professor of the History of Medicine and a Professor in Psychiatry at the University of Toronto. He is also the author of Written in the Flesh: A History of Desire (2005), and Women on Top: Sex, Porn and Big Business (forthcoming).