Events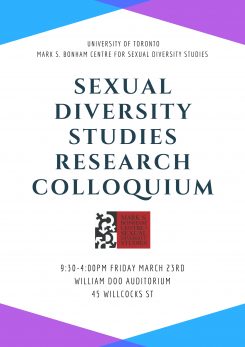 SDS Research Colloquium 2018
March 23rd 2018 at 9:00 AM – 5:00 PM
The Sexual Diversity Studies Student Research Colloquium is a one day event where SDS collaborative graduate students and 4th year undergraduate students will have an opportunity to present their research to fellow students and faculty. Refreshments and food will be served throughout the day. The venue is wheelchair accessible.
Location:  William Doo Auditorium (45 Willcocks)
Sexual Diversity Studies Research Colloquium
*Check out the schedule for panel times and essay topics*
Friday, March 23 2018
9:00-9:30 COFFEE & WELCOME
9:30-10:30 Panel 1
Health, History, and Sexuality (Also Youtube)
Chair- Margeaux Feldman
Jade Bryan- Bisexual Women's Experiences Accessing Mental Health Services in Toronto
Creedance Wright- A Tale of Two Roses: Lesbian Representation and LGBTQ Censorship on YouTube
Alyy Patel- Racism Experienced by Queer South Asian Women in the LGBTQ+ Community
10:30-10:45- Break
10:45-11:45 Panel 2
Disclosure, Bodies, and Sex (also Music)
Chair- Brock Hessel  
Lev Goldern- Transgender Men and Disclosure of Trans Status
Rodney Rousseau- What is there to Lose? HIV Infection, the Self, and HIV "Risk"
Yamilla Sztainbok – TBA
Camille Rogers- Castrated Eroticism: Signification of Gender and Sexuality in Baroque Love Duets
Break: 11:45-12:00
12:00- 1:00 Panel 3
Music, Movies, and Museums (also Television)
Chair- Charly Wreggitt
Meghan Chamberlain- Androgynous Anxieties: Chet Baker and the 1950s Jazz Scene
Alexis Moline- Sexual Representation in Museums: Affective Agents of Change
Alexander O'Connor- If Looks Could Kill: Queer Villainy in Horror
Yicong Li- Love, Sex, and Dating: Are You the Trope?
1:00-1:45 Lunch
1:45-2:45 Panel 4
Politics, Neoliberalism, and Revolution
Chair-Paolo Frasca
Doug Graffeo- The Revolution Will Not Be Queer: Death, Debility, and the Impossibility of Hope in Maduro's Venezuela
Lex Konnelly – "Serving with honour": Neoliberalism, the Trans Military Ban, and the Formation of the Transnationalist Subject in Canadian News Media
Nikki Pasqualini – Hillary Clinton: Campaign Music and Identity Construction
2:45-3:00 Break
3:00-4:00 Panel 5
Schools, Policy, Human Rights (also Cookies)
Chair-Ryan Persadie
Daniel Del Gobbo- Queer Dispute Resolution
Hannah Reaburn- Policy, Performance, and the Performance of Policy: Sexual Violence Policies at Universities in Ontario
Jason Tigert- Not Queer Enough: The Shortcomings of the GSA Movement
Emma Stewart-Small- Canadian National Exceptionalism and LGBTQ+ Human Rights
4:00 Reception