Events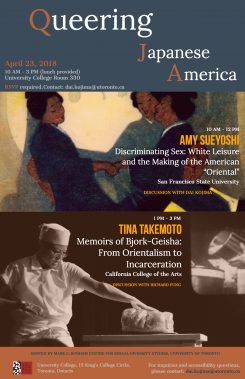 Queering Japanese America with Amy Sueyoshi and Tina Takemoto
April 23rd 2018 at 10:00 AM – 3:00 PM
Queering Japanese America explores the generative potentials of queer analytics, methods, reading practices, and performance towards the re-examination of Japanese experience and history in the US in particular, and North America at large. This event is open to anyone interested in these themes (see details below), but is designed particularly for students and scholars in Sexuality Studies, Women's and Gender Studies, History, Performance and Theatre, East Asian Studies, and Asian Canadian Studies within and beyond University of Toronto. 
Date: April 23, 2018 
Time: 10 AM – 3 PM (lunch will be provided for those who RSVP––please specify any dietary restrictions in your email)
Location: University College, Room 330, University of Toronto (St. George) 
RSVP REQUIRED. To reserve your seat, please contact: dai.kojima@utoronto.ca
[Event Schedule]
AMY SUEYOSHI
Discriminating Sex: White Leisure and the Making of the American "Oriental" (Conversation with Dai Kojima, University of Toronto) 
In the late 1890s, "wide and open" San Francisco appeared to be a place where men and women could configure their intimate lives in expansive and unconventional ways. Rising rates of divorce, increasing sexual independence among women, and state condoned sex work defined the city. Yet as whites explored and enacted new norms of romance and womanhood, increasing freedoms would be less accessible for Asians in America. White writers, lyricists, illustrators, and other producers of leisure culture projected shifting norms of middle class gender and sexuality upon specifically Chinese and Japanese in newspapers, magazines, plays, and musicals. These characterizations would then conflate Chinese and Japanese, previously perceived as two separate races, into a single group. Discriminating Sex details how middle class white expansion of their own gender and sexual norms marked the formation of the pan-Asian "Oriental," a deeply sexual racialized stereotype, more than a hundred years ago.  
Amy Sueyoshi is Interim Dean of the College of Ethnic Studies at San Francisco State University. Her research lies at the intersection of Asian American and sexuality studies. She has authored two books Queer Compulsions: Race, Nation, and Sexuality in the Intimate Life of Yone Noguchi and Discriminating Sex: White Leisure and the Making of the American "Oriental." She is also a contributor to the historic National Parks Service LGBT Theme Study with her essay "Breathing Fire." Amy is a founding co-curator of the GLBT History Museum, the first queer history museum in the United States and the recipient of the Clio Award for her contribution to queer history.  
Dai Kojima is the Undergraduate Director and a Lecturer in Queer of Colour Critique at the Mark S. Bonham Centre for Sexual Diversity Studies. His ethnographic work focuses on transpacific sexual migrations and most recently, the cultural politics of queer gaman in diasporic Japanese communities. His latest work appears in TOPIA (guest co-editor for the Queer/Asian/Canadian special feature),Resilience, and Anthropologica.     
Lunch (UC Room 244)
TINA TAKEMOTO
Memoirs of Bjork-Geisha: From Orientalism to Incarceration (Conversation with Richard Fung, OCAD University) 
In this lecture and film screening, Tina Takemoto presents her humorous guerrilla art protest against art world orientalism as well as experimental films from her Queer Camp Trilogy that explore the lives of queer Japanese Americans incarcerated by the U.S. government during World War II. Takemoto combines drag king performance, archival materials, and popular music mash ups to address the hidden dimensions of same sex intimacy and queer sexuality in Japanese American wartime history as well as the on-going legacy of state violence.  
Tina Takemoto is Associate Professor of Visual Studies at California College of the Arts. As an artist and scholar, Takemoto's work explores the hidden dimensions of same-sex intimacy and queer sexuality for Japanese Americans incarcerated by the US government during World War II. Takemoto has presented artwork nationally and internationally and has received grants from Art Matters, Fleishhacker Foundation, James Irvine Foundation, and San Francisco Arts Commission. Takemoto serves on the board of Queer Cultural Center and is co-founder of Queer Conversations on Culture and the Arts.  
Richard Fung is an artist and writer born in Trinidad and based in Toronto. He holds a diploma from the Ontario College of Art, a degree in cinema studies and an MEd in sociology and cultural studies, both from the University of Toronto. He is Professor in the Faculty of Art at OCAD University, teaching courses in Integrated Media and Art and Social Change. He was a Rockefeller Fellow at New York University and has received the Bell Canada Award for Outstanding Achievement in Video Art and the Toronto Arts Award for Media Art. In 2015, he received the Kessler Award from CLAGS: Center for LGBTQ Studies at the City University of New York for a substantive body of work that has had a significant influence on the field of LGBTQ Studies.
For inquiries and accessibility questions, please write to: dai.kojima@utotonto.ca.