Events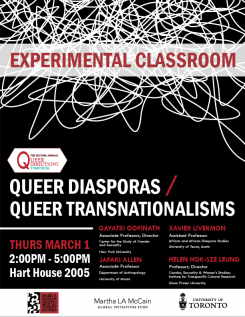 Queer Transnationalisms / Queer Diasporas Experimental Classroom
March 1st 2018 at 2:00 PM – 5:00 PM
We invite all graduate students across the disciplines to apply to participate in an
"experimental classroom" as part of the Bonham Centre's annual Queer Directions
Symposium. Each year, Queer Directions features innovative developments in queer
theory, focusing on emerging and vital themes and critiques. This year's topic is Queer Transnationalism/Queer Diasporas. The professors leading the classroom are: Gayatri Gopinath Associate Professor (New York University), Xavier Livermon Assistant (Professor University of Texas, Austin), Jafari Allen Associate Professor (University of Miami) and Helen Hok-Sze Leung (Professor Simon Fraser University).  This is an opportunity to discuss ideas and share work with some of the most important scholars in the fields of queer theory, cinema studies, gender studies, transnationalism and diaspora, and critical race theory.
APPLICATION DEADLINE: February 10th 2018 at 5:00pm. Please fill out the form below to apply!
The experimental classroom will take place on:
Time: Thursday March 1, 2018, 2:00pm-5:00pm 
Place: Hart House, South Dining Room, 2005