Events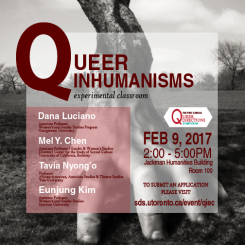 Queer Inhumanisms Experimental Classroom
February 9th 2017 at 2:00 PM – 5:00 PM
We invite all graduate students across the disciplines to apply to participate in an "experimental classroom" as part of the annual Queer Directions Symposium.  This year's topic is "Queer Inhumanisms" and the professors are:
Dana Luciano,  Associate Professor in Women's and Gender Studies Program, Georgetown University
Tavia Nyong'o,  Professor in African-American, American Studies & Theatre Studies, Yale University
Mel Y. Chen,  Associate Professor in Gender & Women's Studies and the Director of the Centre for the Study of Sexual Culture, University of California, Berkeley
Eunjung Kim,  Assistant Professor in Women's and Gender Studies, Syracuse University
This is an opportunity to discuss ideas and share work with some of the most important scholars in the fields of queer theory, affect theory, performance studies, disability studies, environmental humanities, and critical race theory.  Two hours, four professors, lively and engaging conversation!
APPLICATION DEADLINE: February 1st at 5pm EST. Late applications will not be considered.