Events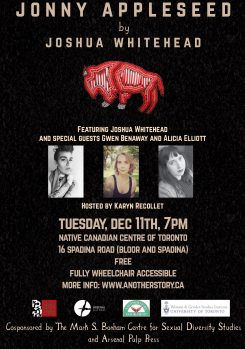 Joshua Whitehead Toronto book launch "Jonny Appleseed"
December 11th 2018 at 7:00 PM
Yes it's true, Joshua Whitehead has not launched "Jonny Appleseed" yet in Toronto!!!
Join Another Story Bookshop and the Women & Gender Studies Institute at U of T to celebrate!
Featuring Joshua Whitehead and special guests Gwen Benaway and Alicia Elliott. Hosted by Karyn Recollet.
Tuesday, Dec 11th @ 7pm
Native Canadian Centre of Toronto
16 Spadina Road (Bloor and Spadina)
Free
Fully wheelchair Accessible
Co-sponsored by The Mark S. Bonham Centre for Sexual Diversity Studies and Arsenal Pulp Press.
Free on-site childcare, with thanks to Showing Up for Racial Justice (SURJ)!
Off the reserve and trying to find ways to live and love in the big city, Jonny becomes a cybersex worker who fetishizes himself in order to make a living. Self-ordained as an NDN glitter princess, Jonny has one week before he must return to the "rez"–and his former life–to attend the funeral of his stepfather. The seven days that follow are like a fevered dream: stories of love, trauma, sex, kinship, ambition, and the heartbreaking recollection of his beloved kokum (grandmother). Jonny's life is a series of breakages, appendages, and linkages–and as he goes through the motions of preparing to return home, he learns how to put together the pieces of his life.
Jonny Appleseed is a unique, shattering vision of First Nations life, full of grit, glitter, and dreams.
Joshua Whitehead is an Oji-Cree/nehiyaw, Two-Spirit/Indigiqueer member of Peguis First Nation (Treaty 1). He is the author of the novel Jonny Appleseed (Arsenal Pulp Press) and the poetry collection full-metal indigiqueer (Talonbooks, 2017) and the winner of the Governor General's History Award for the Indigenous Arts and Stories Challenge in 2016. Currently he is working on a PhD in Indigenous Literatures and Cultures in the University of Calgary's English department (Treaty 7).
Gwen Benaway is a trans girl of Anishinaabe and Métis descent. She has published three collections of poetry, Ceremonies for the Dead, Passage and Holy Wild. Her fourth collection of poetry, Aperture, and a creative non-fiction book, trans girl in love, are forthcoming in 2020.
Alicia Elliott is a Tuscarora writer from Six Nations of the Grand River living in Brantford, Ontario, with her husband and child. Her writing has been published by The Malahat Review, The Butter, Room, Grain, The New Quarterly, CBC, The Globe and Mail, Vice, Maclean's, Today's Parent and Reader's Digest, among others. She's currently Creative Nonfiction Editor at The Fiddlehead, Associate Nonfiction Editor at Little Fiction | Big Truths, and a consulting editor with The New Quarterly. Her essay, "A Mind Spread Out on the Ground" won Gold at the National Magazine Awards in 2017, and another of her essays, "On Seeing and Being Seen: Writing With Empathy" was nominated for a National Magazine Award in 2018. She was the 2017-2018 Geoffrey and Margaret Andrew Fellow at UBC, and was chosen by Tanya Talaga to receive the RBC Taylor Emerging Writer Prize in 2018. Her short story "Unearth" has been selected by Roxane Gay to appear in Best American Short Stories 2018. Alicia is also presently working on a manuscript of short fiction.