Events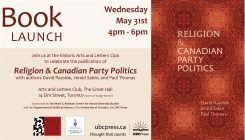 Book Launch: Religion & Canadian Party Politics
May 31st 2017 at 4:00 PM – 6:00 PM
Religion is usually thought of as inconsequential to contemporary Canadian politics. Religion and Canadian Party Politics takes a hard look at just how much or how little influence faith continues to have in federal, provincial, and territorial political arenas.
Join us at the historic Arts and Letters Club to celebrate the publication of "Religion & Canadian Party Politics" with authors David Rayside, Jerald Sabin, and Paul Thomas.
Sponsored by The Mark S. Bonham Centre for Sexual Diversity Studies, the Department of Political Science at the University of Toronto, and UBC Press.
The Arts and Letters Club – 14 Elm St
Find out about the book here: http://www.ubcpress.ca/search/title_book.asp?BookID=299175625