Events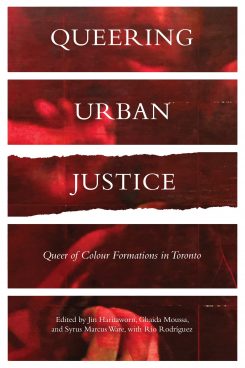 Book Launch for Queering Urban Justice: Queer of Colour Formations in Toronto
November 14th 2018 at 6:00 PM – 8:00 PM
The Women & Gender Studies Institute and The Mark S. Bonham Centre for Sexual Diversity Studies invite you to:
Join the Marvellous Grounds collective and contributors in officially launching the release of Queering Urban Justice: Queer of Colour Formations in Toronto! Authors featured in this collection, and in our newest volume, Marvellous Grounds: Queer of Colour Histories of Toronto, will read excerpts from the books that discuss QTBIPOC histories and space-making in the city. The editors will also talk about the three-year collective process of putting together these collections! Speakers include Jin Haritaworn, Syrus Marcus Ware, Ghaida Moussa, Leah Lakshmi Piepzna-Samarasinha, Monica Forrester, OmiSoore Dryden, Elene Lam, and Kusha Dadui!
40 Willcocks Street, New College
Room 2007D
—–
Marvellous Grounds is a book and web-based project that seeks to document and create space to vision the ways that QTBIPOC (queer and trans Black, Indigenous and people of colour) create communities, innovate projects and foster connections within Toronto/Three Fires Territories and beyond.
Our collection, Queering Urban Justice, foregrounds visions of urban justice that are critical of racial and colonial capitalism, and asks: What would it mean to map space in ways that address very real histories of displacement and erasure? What would it mean to regard Queer, Trans, Black, Indigenous, and People of Colour (QTBIPOC) as geographic subjects who model different ways of inhabiting and sharing space? The volume describes city spaces as sites where bodies are exhaustively documented while others barely register as subjects. The editors and contributors interrogate the forces that have allowed QTBIPOC to be imagined as absent from the very spaces they have long invested in. From the violent displacement of poor, disabled, racialized, and sexualized bodies from Toronto's gay village, to the erasure of queer racialized bodies in the academy, Queering Urban Justice offers new directions to all who are interested in acting on the intersections of social, racial, economic, urban, migrant, and disability justice.
Our newest collection, Marvellous Grounds: Queer of Colours Histories of Toronto, focuses on QTBIPOC archives and histories. Toronto has long been a place that people of colour move to in order to join queer of colour communities. Yet the city's rich history of activism by queer and trans people who are Black, Indigenous, or of colour (QTBIPOC) remains largely unwritten and unarchived. While QTBIPOC have a long and visible presence in the city, they always appear as newcomers in queer urban maps and archives in which white queers appear as the only historical subjects imaginable. The first collection of its kind to feature the art, activism, and writings of QTBIPOC in Toronto, Marvellous Grounds tells the stories that have shaped Toronto's landscape but are frequently forgotten or erased. Responding to an unmistakable desire in QTBIPOC communities for history and lineage, this rich volume allows us to imagine new ancestors and new futures.
Speakers:
Jin Haritaworn is Associate Professor of Gender, Race and Environment at York University, Toronto and has been involved in queer of colour-centred research and community-building in London, Berlin, and Toronto. They have authored multiple publications, including two books, several articles (in journals such as GLQ, Society and Space and Sexualities), and four (co-)edited collections (including Queer Necropolitics). Their latest book Queer Lovers and Hateful Others: Regenerating Violent Times and Places (Chicago University Press, 2015), deals with queer space-making and criminalization in gentrifying Berlin. Jin has made contributions to several established fields on both sides of the Atlantic, including gender, sexuality and transgender studies, critical race and ethnic studies; and urban studies, and has participated in numerous debates, including on homonationalism, gay imperialism, intersectionality, and queer space.
Ghaida Moussa is a doctoral candidate in the Social and Political Thought program at York University, where she interrogates how gendered, racial and neoliberal regimes of knowledge inform our understanding of chronic unidentified illness. She was awarded the 2010 Lambda Foundation for Excellence Award for her Masters work on queer Palestinian resistance to oppressive national, colonial, and neocolonial narratives at the University of Ottawa. Her poems "Ghourbeh" and "Tazakar" have appeared in Sinister Wisdom. She is, with Ghadeer Malek, the co-editor of Min Fami: Arab Feminist Reflections on Identity, Space, and Resistance (Inanna Publications). Along with Shaista Patel and Nishant Upadhyay, she is also co-editor of the recent Feral Feminisms special issue 'Complicities, Connections, and Struggles: Critical Transnational Feminist Analysis of Settler Colonialism'.
Syrus Marcus Ware is a Vanier Scholar, a visual artist, community mobilizer, educator and researcher pursuing his PhD studies in the Faculty of Environmental Studies at York University. Syrus holds degrees in Art History, Visual Studies (University of Toronto) and Sociology and Equity Studies (OISE). In 2014, he was awarded the Slyff Fellowship/Graduate Fellowship for Academic Distinction by York University. Syrus' research focuses on experiences of marginality and the ways that the presence of racialized, trans and disabled people can challenge 'static' social environments. Syrus has authored several book chapters, journal articles and peer-reviewed publications about disability, the diversification of museums, trans parenting and sexual health for trans MSM, including the widely cited "How Disability Studies Stays White and What Kind of White it Stays" and "Going Boldly Where Few Men Have Gone Before: One Trans Man's Experience of a Fertility Clinic and Insemination" (Sumach, 2009). In 2009, Syrus coedited the Journal of Museum Education issue Building Diversity in Museums with Gillian McIntyre. Syrus was voted "Best Queer Activist" by Now Magazine (2005), was awarded the Steinert and Ferreiro Award (2012) for LGBT community leadership and activism, and was awarded the TD Diversity Award from the Toronto Arts Foundation in 2017.
OmiSoore Dryden is an Assistant Professor in the Department of Women's Studies at Thorneloe University (at Laurentian). OmiSoore's research examines the discourses and deployment of blood narratives, as they intersect with transnational black diasporas, racialized sexuality, and the continued signification of HIV/AIDS. Specifically, she engages with the critical study of contemporary Canadian lesbian and gay social and political movements, namely the limits of "gay blood" narratives. OmiSoore interrogates the Canadian Blood Services donor questionnaire and how the blood stories assembled within this document, and in the larger blood system, intersect with and depict blackness (in and through Canada), and broader transnational black queer and trans diasporic sexualities. Dryden's edited collection (with Dr. Suzanne Lenon) titled, Disrupting Queer Inclusion: Canadian Homonationalisms and the Politics of Inclusion was released in September 2015. She is currently working on her monograph, tentatively titled, The Complexity of Blood: Canadian Blood Donation and the Queerness of Blackness.
Leah Lakshmi Piepzna-Samarasinha is a queer disabled femme writer, performance artist and educator of Burgher/Tamil Sri Lankan and Irish/Roma ascent. The author of the Lambda Award-winning Love Cake, Dirty River, Bodymap and Consensual Genocide and co-editor with Ching-In Chen and Jai Dulani of The Revolution Starts At Home: Confronting Intimate Violence in Activist Communities, her writings on femme of colour and Sri Lankan identities, survivorhood, and healing, disability and transformative justice have been widely anthologized. She is the co-founder of Mangos With Chili, North America's touring queer and trans people of color cabaret, a lead artist with the disability justice incubator Sins Invalid and co-founder of Toronto's Asian Arts Freedom School. In 2010 she was named one of the Feminist Press' 40 Feminists Under 40 Shaping the Future. She lives between Toronto, unceded Three Fires Confederacy Territories and Seattle, unceded Duwamish territories.
Elene Lam (LLB, LLM, BSW, MSW) is founder and director of Butterfly (Asian and Migrant Sex Workers Support Network in Canada) and co-director of Migrant Sex Workers Project in Toronto. She has been involved in sex work, gender, migrant and labour movements for almost twenty years. She is earning a PhD in social work at Mcmaster University. She is also trainer on gender equality, sexual health and human rights.
Kusha Dadui works at Sherbourne Health Centre as the trans program coordinator. He is a trans masculine person of colour from Iran who came to Canada as a political refugee with his family about twenty years ago. He has presented his work on queer migration and homonationalism in the asylum system at various major conferences, including American Studies Association and Rainbow Health Ontario, alongside key thinkers and activists such as Sherene Razack, Pamela Palmater and Yusra K. Ali. He is on the advisory boards of Ontario Centre for Agencies Serving Immigrants and Outburst. Kusha has been involved in the LGBTQ community for 15 years, including in numerous campaigns to support queer and trans refugees and newcomers.
Monica Forrester is a transgendered woman of colour born and raised in Toronto. She has been a part of the LGBTTQ community for twenty years and has advocated for awareness and visibility of trans women in Canadian society. For the past ten years, she has been working with the 519 Church Street Community Centre to help low-income women sex workers and to bring more visibility to agencies that trans women access. She produces a bi-monthly zine called "Trans Pride Toronto," which fosters a connection for transidentified people within the community and abroad. Forrester has been an important educator within the Fred Victor Centre, an important resource for people who provide housing, such as landlords and nonprofit housing organizations, as well as a supportive touch-point in the lives of many transgendered and transsexual women who are seeking housing. She believes in her work in advocating for the trans community because gaining acceptance, tolerance, and equality is very important to this community that has a lot to offer in mainstream society.
Marissa Largo is a researcher, artist, curator, and educator. She has a PhD in Social Justice Education from OISE, University of Toronto (2018) and holds degrees in Visual Arts and Education from York University and has a Master's degree in Art Education from Concordia University. Marissa's book manuscript, Unsettling Imaginaries: The Decolonial Diaspora Aesthetics of Four Contemporary Filipinx Visual Artists in Canada examines the work and oral histories of artists who imagine Filipinx subjectivity in excess to the racist and colonial discourses that persist. In 2013, she was awarded the prestigious Joseph-Armand Bombardier Canada Graduate Scholarship from the Social Sciences and Humanities Research Council of Canada (SSHRC). Largo is co editor of Diasporic Intimacies: Queer Filipinos and Canadian Imaginaries (Northwestern University Press, 2017) and a guest co-editor of the Beyond Canada 150: Asian Canadian Visual Cultures, a special issue of the Journal of Asian Diasporic Visual Cultures and the Americas (Brill Press, 2018).
Co-sponsored by Women and Gender Studies and the Mark S. Bonham Centre for Sexual Diversity Studies.