Events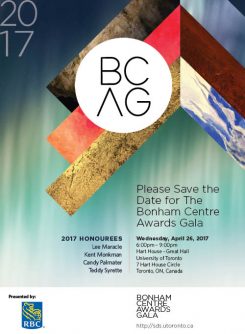 Bonham Centre Awards Gala 2017
April 26th 2017 at 6:00 PM – 9:00 PM
The Bonham Centre Awards were established in 2008 to recognize an individual or group that has made a significant contribution to the advancement of and education about sexual diversity. Past recipients include authors Edmund White, Patricia Nell-Warren, and Shyam Selvadurai; Dan Savage; HIV-AIDs crusader Stephen Lewis; LGBT rights activist and Oscar-winning screenwriter Dustin Lance Black; CBC Executive Vice President Heather Conway;  Out and Equal CEO and founder Selisse Barry; Degrassi television series co-creator Linda Schuyler; lawyer Barbara Findlay; Olympians Mark Tewksbury, Greg Louganis and Marnie McBean.
This year, the Awards will focus on Indigenous leadership in sexual diversity. As it is the 150th Anniversary of Confederation, we have chosen to highlight the history and leading contributions of Indigenous communities in recognizing sexual diversity, long predating European settlement.  Our Bonham Centre Award recipients this year are Kent Monkman, Candy Palmater, Teddy Syrette and Lee Maracle.
Buy your tickets here.
April 26th, 2017
6 pm – 9 pm
Hart House – Great Hall
7 Hart House Circle
This event is presented by RBC

Kent Monkman
Kent Monkman is a Canadian artist of Cree ancestry who works with a variety of mediums, including painting, film/video, performance, and installation. He has had solo exhibitions at numerous Canadian museums including the Montreal Museum of Fine Art, the Museum of Contemporary Canadian Art in Toronto, the Winnipeg Art Gallery, and the Art Gallery of Hamilton. He has participated in various international group exhibitions including: The American West, at Compton Verney, in Warwickshire, England, Remember Humanity at Witte de With, Rotterdam, the 2010 Sydney Biennale, My Winnipeg at Maison Rouge, Paris, and Oh Canada!, MASS MOCA. Monkman has created site specific performances at the McMichael Canadian Art Collection, The Royal Ontario Museum, and at Compton Verney, he has also made Super 8 versions of these performances which he calls "Colonial Art Space Interventions." His award-winning short film and video works have been screened at various national and international festivals, including the 2007 and 2008 Berlinale, and the 2007 and 2015 Toronto International Film Festival. His work is represented in numerous public and private collections including the National Gallery of Canada, the Denver Art Museum, Montreal Museum of Fine Arts, Museum London, the Glenbow Museum, the Museum of Contemporary Canadian Art, the Mackenzie Art Gallery, the Art Gallery of Ontario, the Smithsonian's National Museum of the American Indian and the Vancouver Art Gallery.
Kent Monkman's new, large scale project, Shame and Prejudice: A Story of Resilience, takes the viewer on a journey through Canada's history that starts in the present and takes us back to a hundred and fifty years before Confederation.
Candy Palmater
Candy is a recovered lawyer turned feminist comic who was raised by bikers in the wilds of northern New Brunswick. She is an activist, actor, writer, international speaker, and award-winning TV and radio personality, and has executive produced three films on Mi'kmaw culture.
Candy is the creator and star of her own national, multiple award-winning TV series, The Candy Show. She has a recurring role on the Trailer Park Boys, appeared in Call Me Fitz (HBO Canada) and Sex and Violence (OutTV), and received a Screen Nova Scotia nomination for her role on Forgive Me(Superchannel). She's a columnist with CBC Radio's The Next Chapter and also guest hosted DNTOand q.

Teddy Syrette

Teddy Syrette is an Anishnaabek, 2-Spirit gender-fluid person of Batchewana First Nation. Teddy is an outspoken Queer-Indigenous advocate and storyteller. Their background includes a diploma in social service work in Native specialization at Sault College. They are also experienced in community Arts training, writing and theatre performance. Teddy currently lives in Toronto and is currently working part-time as the Youth Outreach Coordinator for ODE: Remembered Voices, a drop-in program for 2-Spirit youth living in Toronto.

Lee Maracle
Lee Maracle is a Sto:Loh nation; grandmother of four, mother of four who was born in North Vancouver, BC. Her works include: the novels, Ravensong, Bobbi Lee, Sundogs, short story collection, Sojourner's Truth, poetry collection, Bentbox, and non-fiction work I Am Woman. She is Co-editor of My Home As I Remember and Telling It: Women and Language Across Cultures, editor of a number of poetry works, Gatherings journals and has published in dozens of anthologies in Canada and America. Ms. Maracle is a both an award winning author and teacher. She currently is Mentor for Aboriginal Students at University of Toronto where she also is a teacher and also the Traditional Cultural Director for the Indigenous Theatre School, where she is a part-time cultural instructor.
The format for this year's gala will be a cocktail reception with light hors d'oeuvres followed by an awards ceremony. The gala is made possible by the generous support of RBC.