Events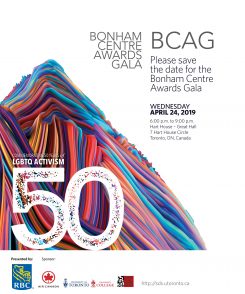 Bonham Centre Awards Gala 2019
April 24th 2019 at 6:00 PM – 9:00 PM
The Bonham Centre Awards were established in 2008 to recognize significant contributions to sexual diversity education, activism, and advocacy by an individual or group. Past recipients include authors Danny Ramadan, Lee Maracle, Edmund White, Patricia Nell-Warren, and Shyam Selvadurai; HIV-AIDs activist Stephen Lewis; LGBT rights activist and Oscar-winning screenwriter Dustin Lance Black; Out and Equal founder Selisse Barry; UN Independent Expert on Sexual Orientation and Gender Identity Vitit Muntarbhorn; lawyer Barbara Findlay; Olympians Mark Tewksbury, Greg Louganis, and Marnie McBean; First Nations Artist Kent Monkman; filmmaker John Greyson; Organizations Rainbow Railroad and Bent on Change; and LGBTQ refugee advocate Karlene Williams Clarke.
Date: April 24th, 2019
Time: 6pm – 9pm 
Location: Hart House – Great Hall (7 Hart House Circle)
The format for this year's gala will be a cocktail reception with light hors d'oeuvres followed by an awards ceremony.
Click here to purchase tickets to the event. 
This year, the awards will focus on LGBTQ Activism. Honourees this year are Richard Fung, Tatiana Ferguson, Supporting Our Youth (SOY), a program of Sherbourne Health, and Kasha Nabagesera.
Tatiana Ferguson 
Since arriving in Toronto from the Bahamas in 2014, Tatiana Ferguson has worked as a sexual health educator, group facilitator, and advocate for trans and queer BIPOC.  Her work fosters safer, accessible, and inclusive spaces for LGBTQ2S+ POC and she supports queer and trans newcomers, refugees and asylum seekers in Canada.  Furthermore, she supported the development of the City of Toronto's Toronto for All campaign that centered Trans Youth of Color during Pride 2017 and helped to start a dialogue about Gender Identity and Race. As an experience facilitator, project coordinator, and guest speaker, Ferguson has worked with numerous organizations in Ontario and thoroughout Canada including Black CAP, The 519, Planned Parenthood, Sherbourne Health Centre, Canadian Council for Refugees, Queen West Community Health Centre and Fierte Montreal. Ferguson was also a participant and facilitator with Supporting Our Youth's Human Rights Equity and Access Team (HEAT) which provided an opportunity to connect with other young activist and harness her public speaking and leadership skills. She also co-created the Perception support group for newcomers, refugees and asylum seekers at EGALE Youth Outreach, and managed the Black Queer Youth stage at Pride Toronto 2016. Most notably, she has worked with various administrative bodies including The City of Toronto, the provincal and federal government and the Ontario Human Rights Code on the inclusion of Gender Identity and Expression in public policy.  In 2016 she was awarded LGBT Youthline Award for outstanding achievements in queer activism.  Ferguson currently works as the project coordinator of TransFormed Project at METRAC, which seeks to address partner violence from Two-spirit, Non-binary and Trans perspectives and with the Black Queer Youth Collective on the Domino Project at Parkdale Queen West Community Health Centre, providing black LGBTQ2S+ youth with a safe, supportive, experiential learning environment to develop life skills to thrive.
Richard Fung
Richard Fung is an artist, writer, and cultural critic born in Trinidad and based in Toronto, where he is a Professor in the Faculty of Art at OCAD University. Fung's video work has been screened internationally and examines the intersections of colonialism, immigration, racism, homophobia, AIDS, and representations of gay Asian men's sexuality. In the early 1980s, Richard Fung co-founded Gay Asians of Toronto after attending the 1979 National March on Washington for Lesbian and Gay Rights. His single-channel and projection works include Orientations (1984), My Mother's Place(1990), Sea in the Blood (2000), Jehad in Motion (2007), Re:Orientations (2016) and Nang by Nang (2018). His essays have been published in many journals and anthologies, and he is the co-author with Monika Kin Gagnon of 13: Conversations on Art and Cultural Race Politics (2002. He has received numerous awards for his art, writing, and activism, including the 2015 Kessler Award from the Centre for LGBTQ2S+ Studies at City University of New York, the Bell Canada Award for outstanding achievement in video art, and the Toronto Arts Award for Media Arts.
Supporting Our Youth (SOY), a program of Sherbourne Health
Supporting Our Youth (SOY) is an innovative community development program of Sherbourne Health that offers dynamic programming and services to support the health and wellbeing goals of LGBT2SQ youth and young adults, many of whom are homeless, racialized and newcomers to Canada.
Established in 1998, SOY continually builds on its legacy of responding to the needs of local queer and trans-spectrum youth. Today, SOY supports participants ages 29 and under with goal-planning, skills-building and connections to resources to help youth develop skills and work towards tangible outcomes such as jobs, housing, education and improved mental health. Through its Goal Planning Service, Internal Housing Program, and Evening Health and Wellbeing Groups, SOY reduces social isolation and helps youth develop confidence by offering inclusive community space and the support of Youth Resource Workers, Coordinators, Mentors and Peer Leaders. Groups also offer nourishing meals, health and wellness programming, one-to-one supports, and opportunities to connect with youth peers with shared identities. The program is anchored in an anti-oppression approach that encourages youth to explore the intersections of their identities, cultures and rights, such as through groups like Trans Fusion Crew (for trans, non-binary and gender-questioning youth), Express (for newcomer and refugee youth), Black Queer Youth (for Black, African, Caribbean or Black identified multiracial youth), and Intersections (a weekly health and wellbeing hub for LGBT2SQ youth/young adults). SOY also provides connections to critical services at Sherbourne Health, including mental health and primary care.
Kasha Nabagesera
Kasha Nabagesera is an LGBTQI rights activist based in Uganda.  In 2003, Nabagesera founded Freedom and Roam Uganda (FARUG), a lesbian, bisexual, and queer organization that advocates for women's rights and equality, both within LGBTQI communities and in society more broadly.  Nabagesera's activism has helped shine a light on the unique plight of queer women in Uganda, while advocating for LGBTQI rights and changes to discriminatory laws and policies.  Engaging in both grassroots and international advocacy, both personally and with FARUG, Nabagesera has created numerous campaigns to combat homophobia in Uganda and organize local resistance against the neo/colonial legacy of anti-queer legislation.  She worked on the Hate No More campaign to encourage better representations of same-sex relationships in Ugandan media, and created the web-based platform Kuchu Times and the print magazine Bombastic Magazine which is distributed countrywide to share stories of LGBTQI lives and issues.  Nabagesera has lived openly as a lesbian her whole life and was a part of the legal campaign to repeal the Anti-Homosexuality Act in Uganda, which criminalized homosexuality with life-in-prison sentences.  For her work, Nabagesera has been honored with many awards among them the Matin Ennals Award for Human Rights Defenders in 2011 and the Nuremberg International Human Rights Award in 2013 and the Right Livelihood Award 2015.   In 2016, Kasha was a recipient of a fellowship from Stanford University, Center on Democracy, Development and the Rule of Law.  Currently, Kasha is the Executive Director of Kuchu Times, based in Kampala, and continues her work in community mobilizing.